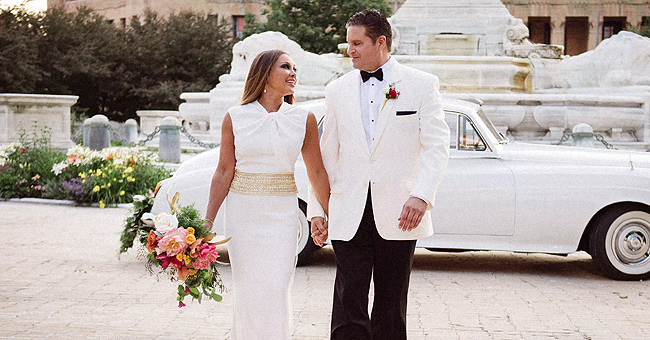 Twitter/TheBuffaloNews
Vanessa Williams Shares Photos from Wedding to Jim Skrip on 4th Anniversary
It was a double celebration for Vanessa Williams on the 4th of July, as she celebrated her 4th wedding anniversary with husband, Jim Skrip. The pair, who had two weddings, are still going strong.
Vanessa Williams had the honor of performing at the Capitol on Independence Day, but before taking the stage, the former Miss America took to Instagram to celebrate another special date for her and her family.
The 56-year-old singer and actress shared a fan-made collage with photos from her Egypt-themed wedding ceremony with Jim Skrip from 2015. The pics show Vanessa and Jim cutting the cake, walking down the aisle, sharing a kiss and dancing, and in most of the pics, their smiles are as big as it can get.
"Thanks, @fanvanessas for the anniversary wishes 4 years on the 4th," Williams captioned the post.
FANS' WISHES
Fans were quickly filling the comment section with more congratulatory messages.
"Happy anniversary Ms.Williams and a lifetime of joy and happiness," wrote one user.
"You want somebody in your life who has integrity, who is solid, who knows who he is. He's romantic, and he's a great guy."
Another added, "Happy Anniversary to Vanessa and her Jim. May God bless and keep you both in His Powerful Protective Holy Spirit filled hands in Jesus Mighty Name Amen."
And a third one agreed,
"Happy anniversary what a big guy to hold you and keep you safe. Beautiful."
THEIR LOVE STORY
Before meeting Jim, Vanessa had been married twice: first to Ramon Hervey II, with whom she shares daughters Melanie and Jillian, and son Devin; and then with former NBA star Rick Fox, with whom she shares daughter, Sasha.
It was during a trip to Egypt in 2015 that Vanessa and Jim crossed paths. She was there aboard a cruise on the Nile with Sasha, and he was alone.
Vanessa's tour guide encouraged her to talk to Jim, and since he was wearing a Buffalo Saber t-shirt, Williams found the perfect icebreaker conversation, as she recalled on "The Wendy Williams Show":
"I said, 'Are you from Buffalo?' And he said, 'Yeah.' And I said, "My mom grew up in Buffalo, and my brother's a big Bills fan.' We started talking about football and stuff, collected our bags and stuff."
He knew who she was, but didn't dare to approach because "he's a gentleman." "He saw me with my daughter so he never would approach me," Vanessa said.
She continued:
"Then my tour guide kind of dared me. Well, ask him out tonight. I said, C'mon it's my last night. He's already on his bus how am I going to get in contact with him?' She said, 'Hold on a sec.' So she calls his tour guide, and the tour guide said, 'Here, the phone's for you.' I said, 'I know it's my last night and I know we just met but can you have dinner with me at my hotel?' And he came with me, and we had a beautiful 3-hour dinner."
They date for three years before Skrip proposed.
TWO WEDDINGS
They first tied the knot in an Egypt-themed ceremony on July 4 at the St. Stanislaus Church in Buffalo.
"When I saw Vanessa walk down the aisle, I didn't even notice her dress," Skrip told People at the time. "We locked eyes, and I got caught up in the moment, full of happiness and joy. When I finally noticed the dress, it was perfect for Vanessa … sleek, simple, and sexy."
The couple's reception took place at The Statler City banquet venue, where Williams surprised her husband with a parody of Show Boat's "Bill," which she turned into a song called "My Jim."
At the time of their wedding, Skrip's annulment from his previous marriage wasn't done yet, so they had to remarry on the Catholic's church.
For their second ceremony, they also chose a national holiday, as they walked down the aisle on Vanessa's hometown Chappaqua, New York, on Memorial Day.
"Yesterday we took one last walk down the aisle — this time in my little church," Williams wrote at the time on Instagram. "Officially wedded Catholic. Amen! #MyJim."
"Jim is a real man," Williams told People of her husband at the time of her first wedding. "You want somebody in your life who has integrity, who is solid, who knows who he is. He's romantic, and he's a great guy."
Please fill in your e-mail so we can share with you our top stories!