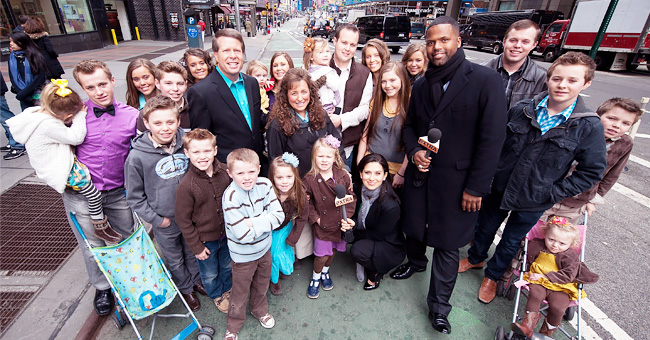 Getty Images
Here's What Each Duggar Family Member Does for a Living

A large family, lots of traveling and a relatively good life can't come cheap. So how do the Duggars do it?
Since the Duggars became popular, fans have wondered just how they support their large families. From real estate to ministerial work, the Duggar clan seems to dabble in a few different career paths.
Jim Bob & Michelle Duggar
Jim Bob Duggar, 52, is actually a commercial and residential real estate agent. Together with Michelle, he buys run-down houses and fixes them up before flipping them for a profit.
Michelle technically does not have a career. She proudly states that she is a stay-at-home mother focused on raising her nineteen children.
Joshua & Anna Duggar
Joshua Duggar was once the executive director of the conservative lobbying group Family Research Council (FRC). However, after his molestation scandal, he was forced to resign in 2015.
He was also kicked off the TLC show starring his family after the scandal went public. The oldest Duggar is reportedly working as a used-car salesman according to reports. His wife Anna is a stay-at-home mom.
Jana Duggar
Jana co-wrote a book with her sisters Jill, Jessa, and Jinger titled Growing Up Duggar: It's All About Relationships. The book discussed life in the Duggar home, their social relationships, and religious beliefs.
When she isn't writing with her sisters, Jana does church work. She went on her first mission trip to Michigan in 2012.
She also spends time gardening. Jana has dabbled in many careers including volunteering as a first responder at the local fire department. In 2013, she began training to be a doula to help her in her missionary work.
John-David & Abbie Grace Duggar
John-David earned his pilot's license in 2012 and became a constable for the Washington County police department in 2013. According to the Duggar Family Blog, John David does construction work.
Abbie had been a registered nurse when she met John-David. However, after they tied the knot she appears to have given up her career to focus on their family and home.
Derick & Jill Dillard
Jill and her husband, Derick Dillard's financial state has been the cause of controversy for a few years now. Before marrying Jill, Derick was an accountant at Walmart. He left his job and the couple became missionaries in Central America.
Derick is currently a full-time student at Cross Church College Ministry while Jill is a stay-at-home mom to their two young sons, Israel and Samuel.
Ben & Jessa Seewald
According to reports, Ben is currently jobless. When the couple got married, Ben completed an associate's degree in political science.
However, since then he worked for Jim Bob and held down odd jobs. Jessa is a stay-at-home mom to their two young sons, Spurgeon and Henry. Fans assume that the couple is paying their bills from the money they receive from TLC.
Jeremy & Jinger Vuolo
Jeremy is a preacher at a small church. However, before he became a priest, he was a professional soccer player.
According to the Duggar family, Jinger works as a wedding photographer. The couple is clearly writing their own rules about working.
Joseph & Kendra Duggar
Joseph Duggar is following in Jim Bob's footsteps. He works for the family business and is aiming to earn his real estate license and commercial driver's license (CDL).
Josiah & Lauren Duggar
Josiah Duggar is also apparently working on getting his real estate license. He also wants to get his pilot license according to a social media post in 2016.
Austin & Joy-Anna Forsyth
Austin Forsyth is also well-known in the real estate game. Together with his wife, he has been involved in different construction and renovation house flip projects.
Forsyth is currently running a home-flipping business with his father. He also works at the family's camp, the Fort Rock Family Camp.
As for the younger Duggars, there have been no reports yet about their future career plans.
Please fill in your e-mail so we can share with you our top stories!