Beth Chapman's Family Plan a Live Stream for Her Colorado Memorial Service
Beth Chapman's family is reportedly going the extra mile to fulfill the late bounty hunter's wishes for a second memorial service to be held in her honor. 
Beth Chapman passed away on June 26, 2019, after battling throat cancer for the second time for a few months. She left behind tons of family and even more fans who fell in love with her through the reality show, "Dog the Bounty Hunter." 
The 51-year-old also left instructions to her family as to how she wanted to be remembered. So far, they've completed the first part of her wishes by holding a memorial in Hawaii. Her daughter Cecily Chapman shared photos online. 
Beth also wanted another memorial to be held in Colorado, and according to a TMZ source, her family is going the extra mile to accommodate those who want to attend. The outlet said that a large crowd is expected for the July 13 event. 
The family is working with law enforcement and crowd control personnel. In addition, they're trying to get hotels in Aurora, where the event will be held, to offer discounted rates to attendees. 
You all know how she is about HER NAILS !! pic.twitter.com/w8iWMYrWZd

— Duane Dog Chapman (@DogBountyHunter) June 25, 2019
The source also said that Beth insisted on giving full access to the memorial, so there will be a live stream for those unable to be physically present at the send-off. 
Beth's husband Duane Chapman announced that the venue will be Aurora's Heritage Christian Center where doors will open at 1 p.m. The event should begin at 2 p.m and end at about 4 p.m. 
July 13, 2019 -
Heritage Christian Center
14401 E. Exposition Avenue
Aurora, Colorado 80012 - Doors open at 1:00 Service starts at 2:00 pic.twitter.com/Htw4SKxDDl

— Duane Dog Chapman (@DogBountyHunter) July 1, 2019
In early July, Beth's family took to Instagram to search for volunteers to assist them with the memorial. Her daughter Bonnie Chapman reposted a picture from Richard Moore. 
"Hi All! it began, and continued "If you live in the Denver area and are interested in volunteering to help out with Beth Chapman's memorial service in Aurora Colorado on July 13th please email me at richard@dogthebountyhunter.com. Thanks!"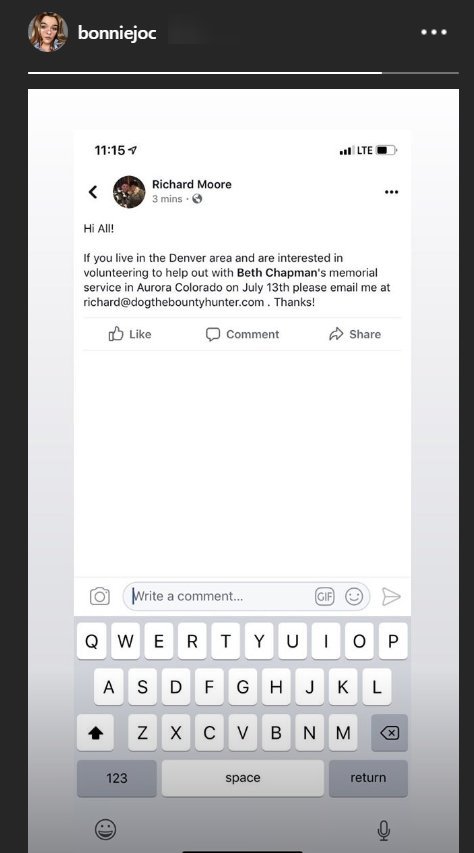 Beth was first diagnosed with throat cancer in November 2017. She had surgery to remove it and was declared cancer-free in January 2018. In November 2018, she again was diagnosed with the disease. 
Beth and her husband had only just announced their return to reality tv with a new show called "Dog's Most Wanted." Our hearts go out to her family and close friends as they continue to mourn their loss.