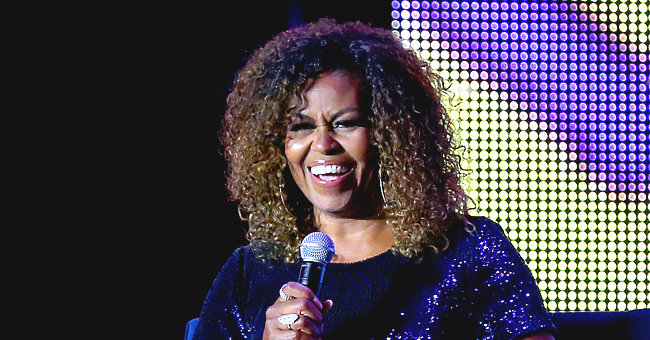 Getty images
Michelle Obama Is 'Surprised' Malia & Sasha Have 'Any Friends' after Being Daughters of a President

Immediate Former First Lady of the United States, Michelle Obama recently granted an interview where she spoke on different issues including her time in the White House, and her daughters.
In the interview, she expressed her surprise as to how her daughters still have friends after being daughters of the country's number one citizen.
Michelle Obama sat down for an interview with the co-host of "CBS This Morning," Gayle King. In the interview, she talked about the power of being Black, her daughters, and her husband.
She also advised young trailblazers on the need to find a balance and she discussed a host of other issues. The highlight of the interview was, however, her expression of surprise that her daughters still had friends.
EXCERPTS FROM THE INTERVIEW
During the interview, Michelle Obama revealed that she and her husband took a lot of punches to get to the White House. She also said that her family is now doing fine, though she further explained that them doing fine is not okay. Michelle, then said that, she and Barrack Obama would not be living their best life until everyone is living their best lives.
The former First Lady also spoke about how she raised her two daughters in the White House. She explained that they lived their lives, pretending that all the craziness happening around them wasn't existing.
She also explained that she told them that the fact that their father is the President had nothing to do with them, and thus, they had to take their "butts" to school.
Mrs. Obama further explained that she noted the strangeness of the situation whereby her daughters were always surrounded by armed guards, even when they went for sleepovers at their friends' houses. Thus she was surprised that they had any friends at this moment.
Michelle Obama went on to credit her mother, Marian Robinson for helping her raise her humble daughters. She went on to talk about her father, and also offered some candid advice to women.
MICHELLE OBAMA'S MEMOIR REVEALS DAUGHTER'S WISH ON PROM NIGHT
The former First Lady's memoir, "Becoming," has in it many revelations, as well as some scathing criticism of President Donald Trump. One of such revelations is what her daughter, Malia Obama told her parents on her prom night.
Malia, who was then aged sixteen, pleaded with her parents to be cool, as her date for the Prom was about to meet with them.
Please fill in your e-mail so we can share with you our top stories!