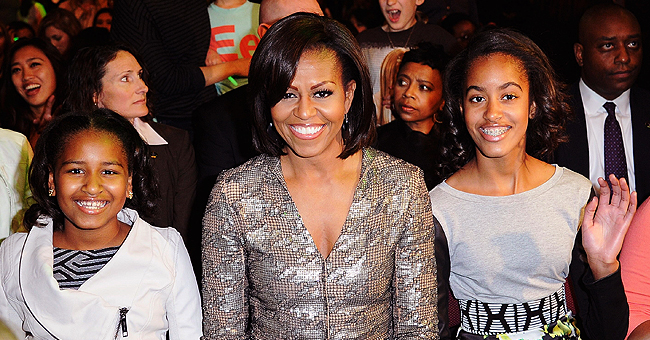 Michelle Obama Is 'Surprised' Her Daughters Had Any Friends after White House Childhood

Michelle Obama opened up about her daughter's challenges in going through adolescence in the White House.
Michelle Obama opened up to Gayle King about her family's sojourn in the White House, and the impact the experience had, especially on her daughters.
Michelle revealed that raising their daughters as normal children in the rarified ambiance of the White House was quite a challenge.
"For eight years, it was like, 'Yup, yup, your dad's president. That doesn't have anything to do with you. Just take your lil' butt to school. Yes, you have security, just ignore them. They're not here for you.' " Michelle Obama
GROWING UP AS FIRST DAUGHTERS
When Barack Obama became the 44th President of the United States, his daughters Malia and Sasha were just 10 and 7, and the next 8 years of their lives would be lived in the public eye.
This meant that all the usual childhood activities, like trips to the Zoo or the Natural History Museum, had an added ingredient: a Secret Service security detail.
Malia and Sasha were constantly trailed by armed guards entrusted with keeping the two girls safe at all times.
NIGHTMARISH SLEEPOVERS
Even that girlhood staple, a sleepover at their little friends' houses became a virtual nightmare for Malia and Sasha, Michelle explained.
"This is the call: It's like, 'Hello? Okay, we're gonna need your social security number. We're gonna need your date of birth. There are gonna be men coming to sweep your house If you have guns and drugs, just tell them yes because they're going to find it anyway. Don't lie. They're not gonna take 'em, they just need to know where they are,' " she said.
BIRTHDAY PARTIES WITH ARMED GUARDS
As for accepting invites to their friends birthday parties, that was yet another to do. Malia and Sasha were constantly trailed by armed guards entrusted with keeping the two girls safe at all times. An that had to be explained to their friends' bewildered parents.
"'Thank you for having Malia and Sasha over. Oh by the way, there's gonna be a man with a gun sitting outside of your door all night. Let him come in and use the bathroom. It would just be nice,' " Michelle said.
MALIA WENT TO THE PROM WITH THE SECRET SERVICE
As the girls grew older, it grew more awkward. Michelle remembers the particularly odd experience of watching her daughter Malia drive off to the prom in her boyfriend's car - followed by vehicles full of armed security officers.
"Imagine trying to have your first kiss [surrounded by] a bunch of men with [guns]," she laughed.
But somehow, the Obamas muddled through, serving their country and raising two teens at the same time - a trully heroic task.
Giving credit where credit is due, they seem to have done a great job, and with Sasha heading for college in the fall, the former Presidential pair will now be dealing with the empty nest syndrome.
MICHELLE AND BARACK OBAMA'S MIRACLE BABIES
Former First Lady Michelle Obama shared the pain she went through when she suffered a miscarriage over 20 years ago.
Michelle is determined to open up the subject of miscarriage and infertility for discussion since this is a common occurrence that often leaves women feeling lost and alone, and feeling isolated.
In her mid-thirties, Michelle feared that she would not be able to have children, and feeling that time was running out, she and Barack underwent In-Vitro Fertilization (IVF).
Thanks to the procedure, Michelle and Barack are now the proud parents of 21-year-old Malia and 18-year-old Sasha.
Please fill in your e-mail so we can share with you our top stories!