Wendy Williams Arrives at Work in Tight Dress & Ruffled Pink Coat
Wendy Williams is back to work after a five-week-long hiatus from her show, and she looks better than ever. The 54-year-old TV host opened up about her personal life, revealing that she's once again off the market while dealing with her divorce from Kevin Hunter.
Wendy Williams looked in high spirits on Monday, as she made her way from her home in New York City to the studio where her show is recorded.
HOT IN PINK
She wore a body-hugging black dress with a plunging neckline, a bright pink ruffled coat, and white sneakers.
She also carried two big bags, one of which was a Chanel, and kept her accessories at bay adding only sunglasses, a simple silver necklace, and matching bracelets.
Wendy Williams has gone full diva and more star snaps https://t.co/Fi9BDCex1p pic.twitter.com/YuFKKJX22h

— Page Six (@PageSix) July 9, 2019
Later on, as she appeared on screen for the first time in five weeks, Wendy couldn't contain her tears of joy while her audience gave her a warm welcoming.
Then, she proceeded to tackle down most of the latest headlines about her personal life in her Hot Topics section.
WENDY'S HOT  SUMMER
After recalling her time vacationing in Los Angeles and her experience at Kim Kardashian and Kanye West's house, Williams revealed to her fans that she's no longer single, three months after she filed divorce from ex-manager and soon-to-be ex-husband Kevin Hunter.
Wendy Williams reveals she is dating a doctor as she returns to her TV show after divorcing her husband of 22 years https://t.co/qZ3oNtFmoQ

— Daily Mail Femail (@Femail) July 8, 2019
"Well, I'm not on the market anymore," she said. "I don't know how I'm doing! I'm not in love, but there's somebody that I'm crazy about."
Just a few weeks ago, Williams was linked to 27-year-old convicted felon Marc Tomblin, who was caught walking around New York City with her, holding hands, and visiting some high-end stores and luxurious restaurants.
Aware of this, Williams was quick to deny Tomblin is the new man in her life.
"All right, listen. It's not who you think. Mother doesn't deal with children," she said. "But it just so happens that I guess with my charm and wit I attract people of all ages."
Williams explained that paparazzi caught pics of them holding hands because it's something she does every time she goes out with a friend. "I went out last night for dinner with my executive producer David Perler, and I held his hand," she said.
Learn more about Wendy Williams' new man, Marc Tomblin! https://t.co/3F8z13gXhE pic.twitter.com/MiYxZ2AIT2

— HollywoodLife (@HollywoodLife) June 19, 2019
A MYSTERY MAN
Although Wendy joked saying that 27-year-old boys, "quite frankly, do find me very attractive," she added that she needs the comfort of a man around her age, someone that works too.
"It helps that he's a doctor," she hinted about her new romantic interest with a sly smile, before adding:
"I am not going to say one more word. You're not going to blow this for me. But he's been married, and his kids are in their 20s. And yes, he's black. He's brown-black. I know you're wondering."
Williams was giddy about her new man, but she seems determined to keep the new relationship out of the media for now.
ALL IN THE FAMILY
After addressing the cover of a Globe magazine edition claiming her divorce was getting messy, Williams assured the audience that her family is doing well.
In the past months, Wendy's family has been surrounded by drama from all angles.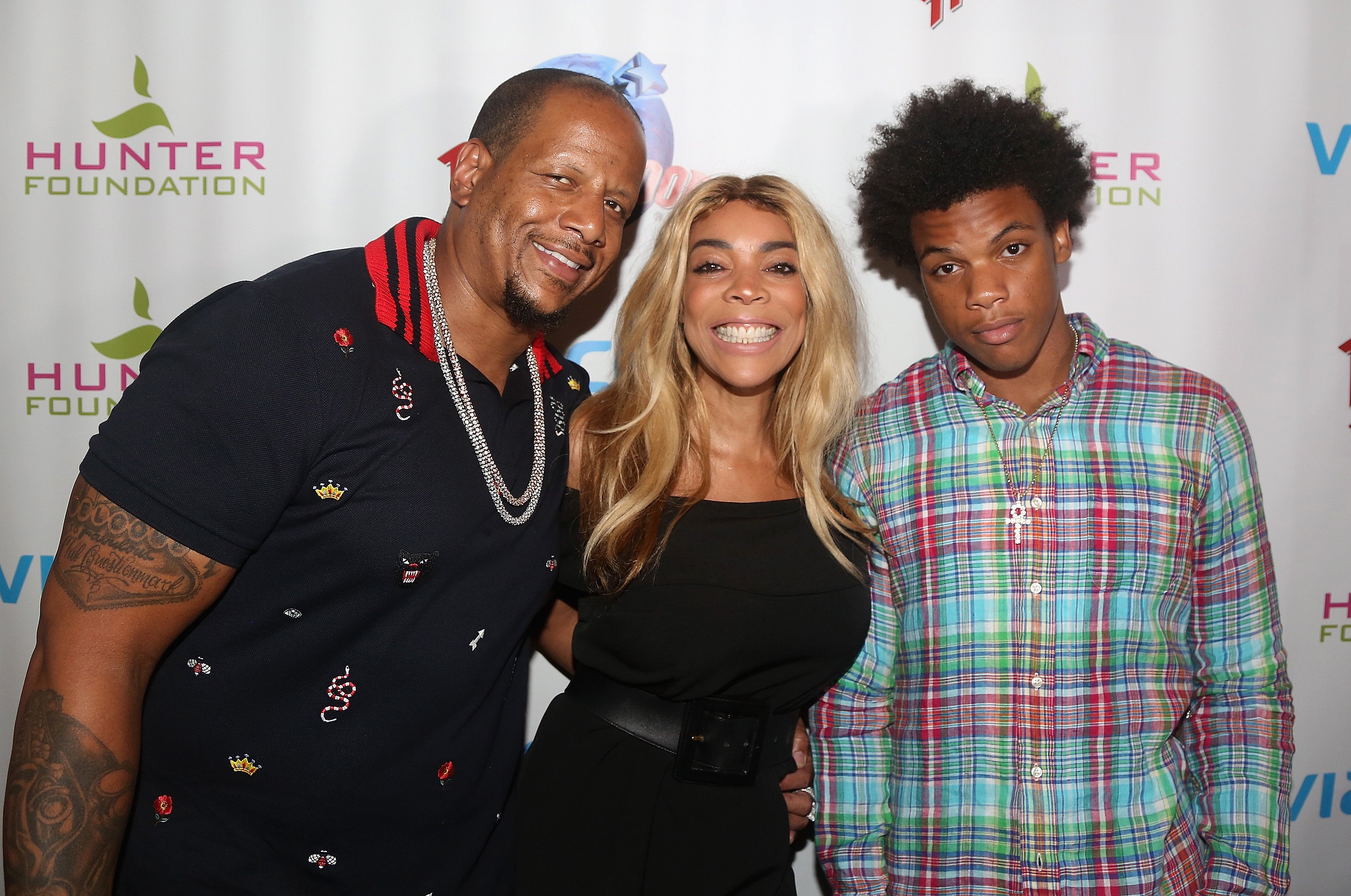 She filed for divorce in April following the news of her husband welcoming a baby with his longtime mistress, Sharina Hudson, then cut all profession ties with Hunter too.
He was fired from his position as executive producer of her show, and she also dissolved the foundation they had built together in 2014.
The same week, the couple's son Kevin Jr. was arrested for punching Kevin Sr on the face after an alleged dispute over the divorce. However, Hunter didn't press charges against his son, explaining that everything was a misunderstanding.
Kevin Jr. pleaded not guilty to assault in a New Jersey court last month, and on Tuesday, the case was finally dismissed.
Hunter was there in the courtroom to support his son.