Meet Wendy Williams' Mystery Man, a 27-Year-Old Blogger Who's a Convicted Felon
Two months after filing for divorce, Wendy Williams is embracing the single life and having fun with it, as she snagged herself a man young enough to be her son. The 27-year-old, identified as Marc Tomblin has a criminal record, but Williams doesn't seem to mind about it.
Wendy Williams is enjoying her life to the fullest, and after spending a week in Los Angeles, California with her new bae, the TV host returned to New York earlier this week with Tomblin in tow for "no strings attached fun," as she told TMZ.
TOMBLIN'S PAST WITH THE LAW
According to his LinkedIn page, Tomblin is a financial investor and blogger. He's also a convicted felon who served time for a violent crime, according to court documents obtained by Bossip.
Tomblin was sentenced to 15-30 months in jail after pleading guilty to conspiracy to commit robbery with a dangerous weapon and breaking and entering in Charlotte back in 2013. Police reports state he was part of a group of three people who robbed a man at gunpoint.
"He is lovely, but let me make it clear ... I don't have a boyfriend."
He served 15 months for the two convictions and was released in 2014. He was on probation for a while too.
And although fans might be worried about Williams' being blindsided by Tomblin, the seasoned TV host told TMZ she's aware of her new man's past and she's a grown woman who knows what she's doing.
"Look, my husband had a full baby with a woman he was involved with for 15 years ... where I was cooped up only to be a show pony. Now, I'm living my life," she allegedly stated.
EMBRACING HER FREEDOM
Wendy first met Tomblin while partying with Blac Chyna in L.A. and she gave her fans a first glimpse of Marc by sharing a pic on Instagram hanging out poolside with him while holding hands. However, she kept his face out of the frame and captioned the post:
"Last night was the most beautiful sunset in Sherman Oaks with special people. Thank you, California! You've won me over! I'll be back for the Hip Hop Festival in August!"
Williams sparked speculation when she added in the tags that she was with a "very sexy man," that she was "old enough to be your mother" but she was living her "new life."
A few days later, paparazzi caught up with Wendy as she and Tomblin waited for their order outside a Roscoe's Chicken & Waffles. Williams was in high spirits as she talked about her vacation in L.A, but soon after broke down in tears when asked about her family.
However, as she dried her tears, the paparazzi "Are you guys friends?" referring to Tomblin. In response, Williams smirked and rolled up the window of her car, clearly letting actions speak louder than words.
But don't get it twisted, although Wendy and Marc are having fun, she clarified to TMZ that "He is lovely, but let me make it clear ... I don't have a boyfriend."
WENDY'S FAMILY DRAMA
Last April, Wendy filed for divorce from her husband of over two decades, Kevin Hunter, after he allegedly fathered a child with his longtime mistress, Sharina Hudson.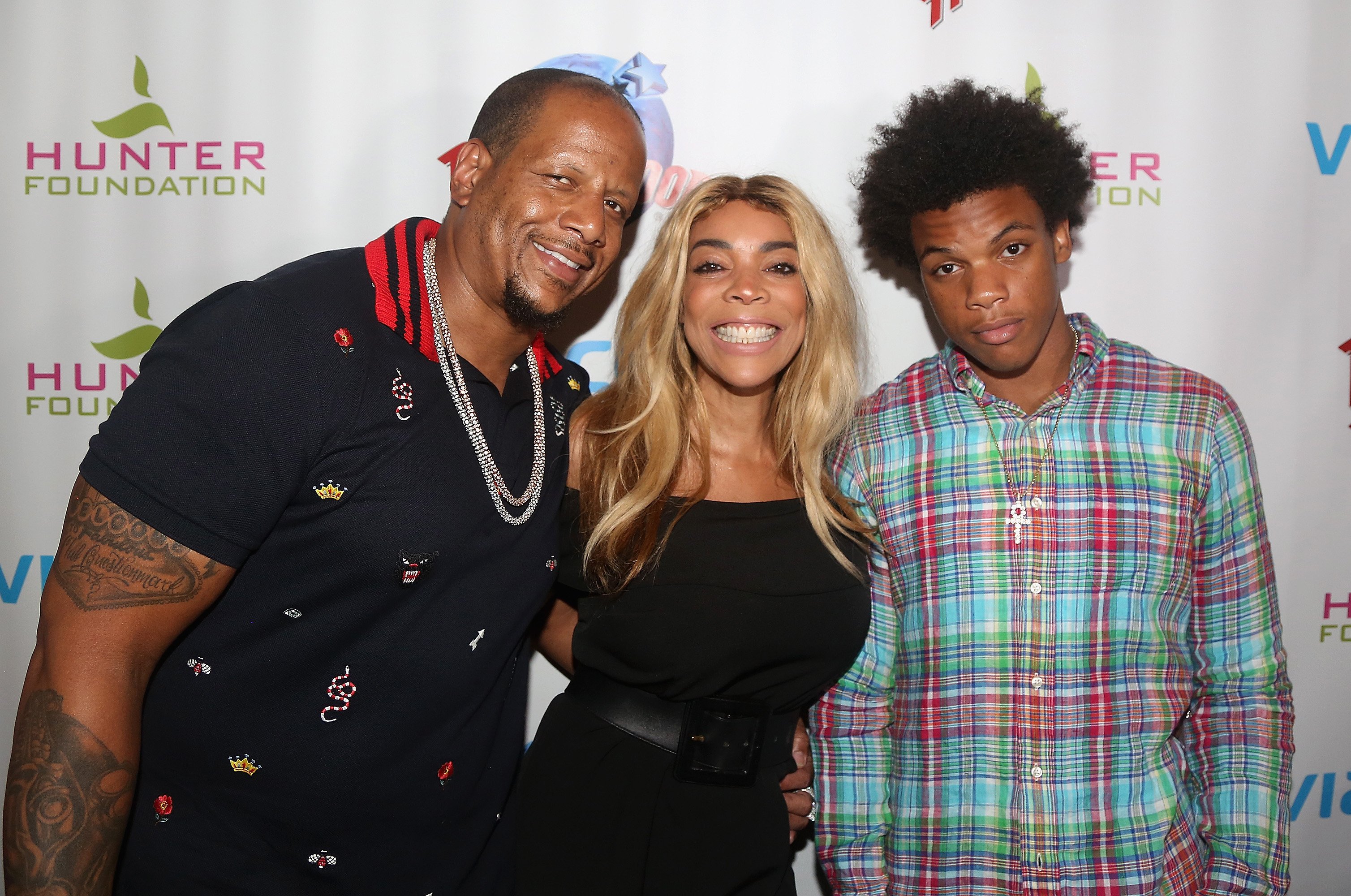 The news came days after Williams announced she had been living in a sober house to deal with her past addictions to drugs and alcohol.
Kevin, who was Williams' manager and business partner, issued a public apology admitting his faults, but it was too late. He was fired from his position as executive producer on "The Wendy Williams Show," and Wendy cut all ties with him, including their joint foundation and hotline for drug addicts.
As the drama unfolded in the family, Kevin and Wendy's son, Kevin Jr., was arrested for assaulting his father after a discussion over the divorce escalated. However, Kevin Sr. didn't file charges against the 18-year-old.
EVERYONE'S TRYING TO MOVE ON
Williams, 54, admitted during her tearful conversation with paparazzi in L.A that the public will be seeing her family coming together in the future.
"Kevin's gotta graduate from college. He's going into his sophomore year," she explained. "He's gonna get married and whatever he's gonna celebrate. Everybody's gotta grow up."
#WendyWilliams' son #KevinHunterJr has been arrested for assault after punching his father, #KevinHunterSr. More on https://t.co/BBLwet2fkh! Or swipe up in stories https://t.co/6JpzINxlnC pic.twitter.com/2dP4ji2tai

— YBF CHIC (@TheYBF) May 22, 2019
When asked about Kevin Sr. and Jr.'s relationship, the TV queen confirmed that father and son are doing okay.
"They're not apart," she said. "You know stuff happens in life."