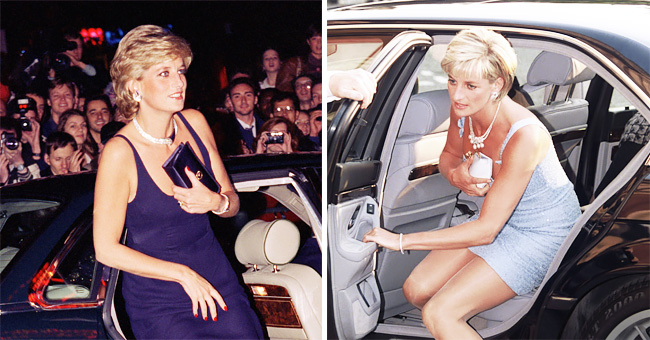 GettyImages/GlobalImagesUkraine
Lady Di's Designer Reveals Diana's Purses Served as a Shield from Tricky Paparazzi

Dubbed "the most photographed woman in the world", Princess Diana was well accustomed to manoeuvring her way through the spotlight. To do this, she had quite a number of tricks up her sleeve, and her former bag designer, Anya Hindmarch opens up to the public on one of them.
Anya, a native of Essex met Princess Diana when she launched her first bag store in Chelsea in 1993.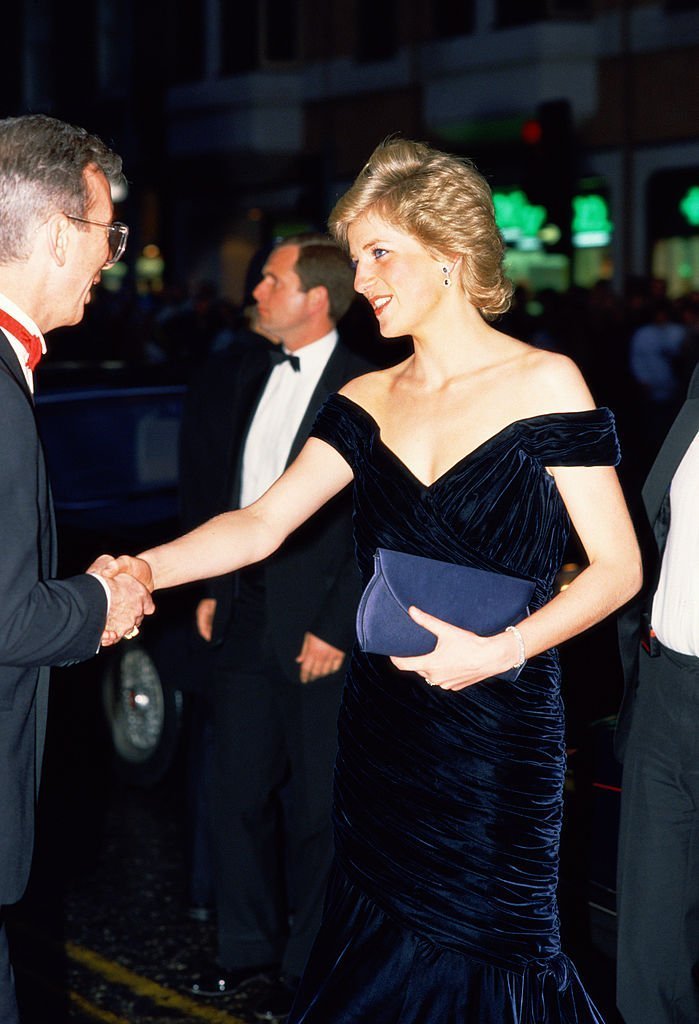 Princess Diana attending the premiere of Oliver Stone's film 'Wall Street' | Photo: Getty Images
While speaking to The Telegraph, she stated that the Princess was one of her most loyal customers, and described her as "a lot of fun."
"Little satin clutches which she would cover her cleavage with when she stepped out of cars."
Anya, who started her bag business at just 18-years-old, disclosed that 'Lady Di' preferred to keep her appointments "informal."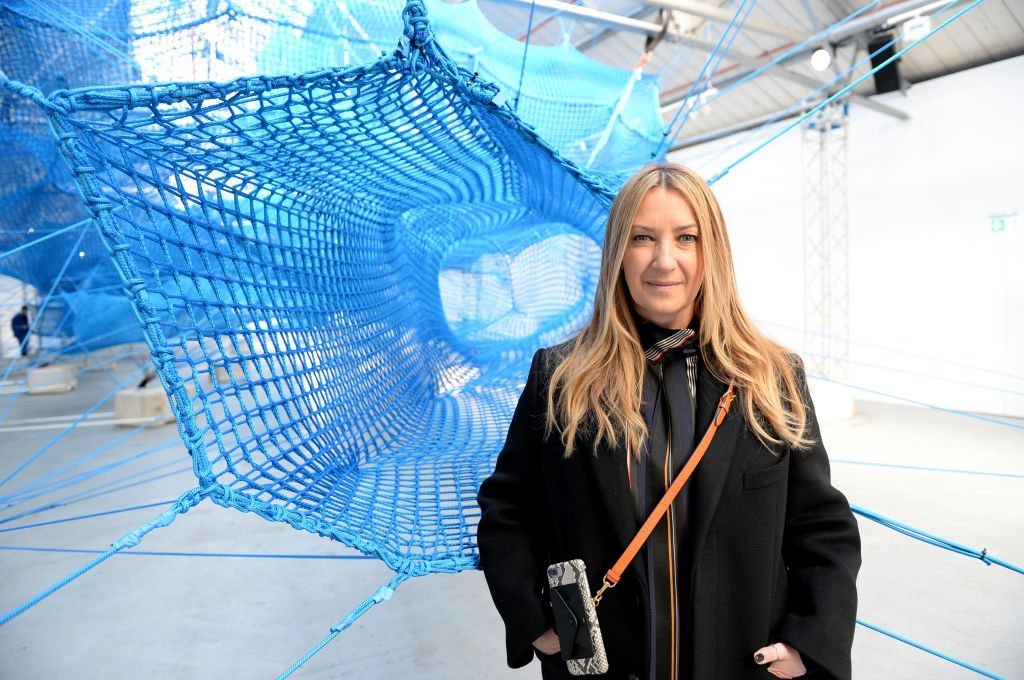 Anya Hindmarch poses at the Anya Hindmarch Presentation during London Fashion Week | Photo: Getty Images
One of Anya's famous works was what the pair named the 'cleavage bag.' As revealed by the designer, the bags were "little satin clutches which she would cover her cleavage with when she stepped out of cars."
Around the mid-'90s, Diana favoured a lot of dresses that featured plunging necklines. However, given how the British press dissected her every outfit, she did her best to be on the safe side.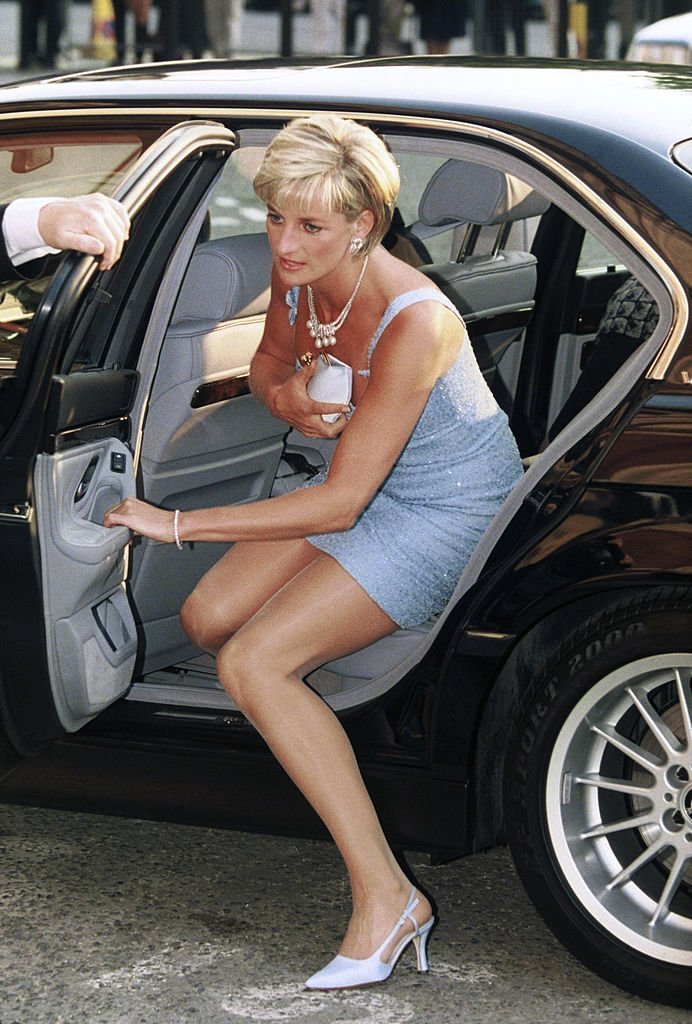 Princess Diana wearing a pale blue Jacques Azagury dress, attends the English National Ballet performance of 'Swan Lake' at the Royal Albert Hall | Photo: Getty Images
The clutch was a clever piece which would serve as Princess Diana's invaluable tool against the continual flashing lights from the media cameras.
Whenever the Princess had on a low cut dress which would expose her cleavage, the bag served as a guard against prying camera operators.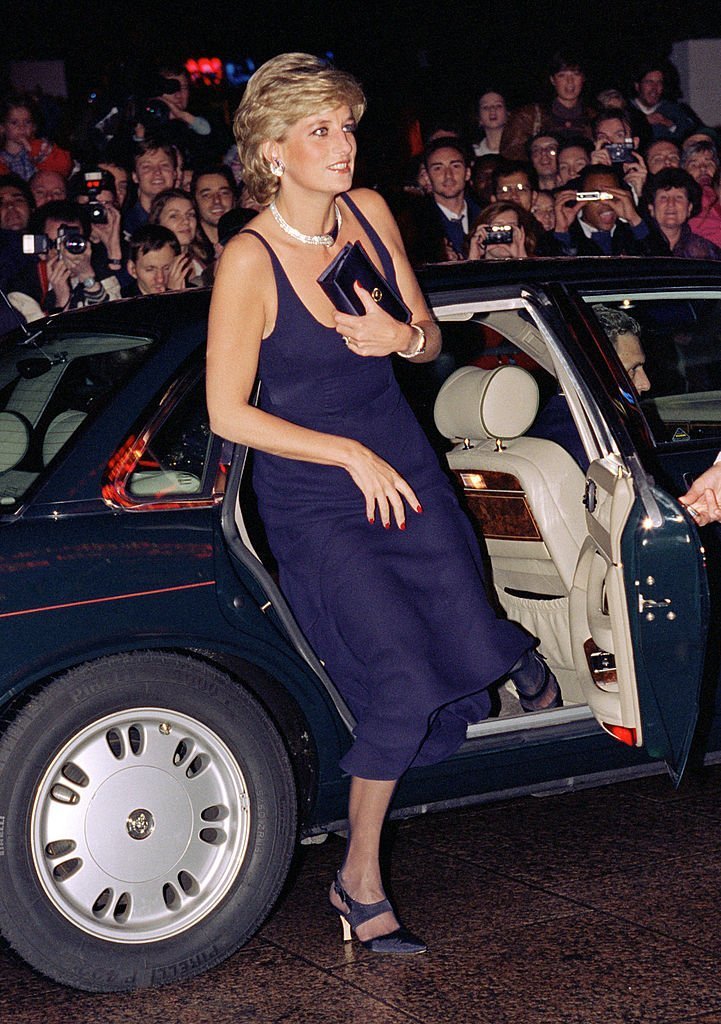 Princess Diana Attends The 'Haunted' Premiere In London |Photo: Getty Images
Over time, it became an integral part of her dressing as she was seen using it whenever she had to get down from a vehicle or appear in a position which left her bare chest exposed.
Surprisingly, it's not only Princess Diana that came up with subtle techniques in handling the life of royalty and the hassles that come with it.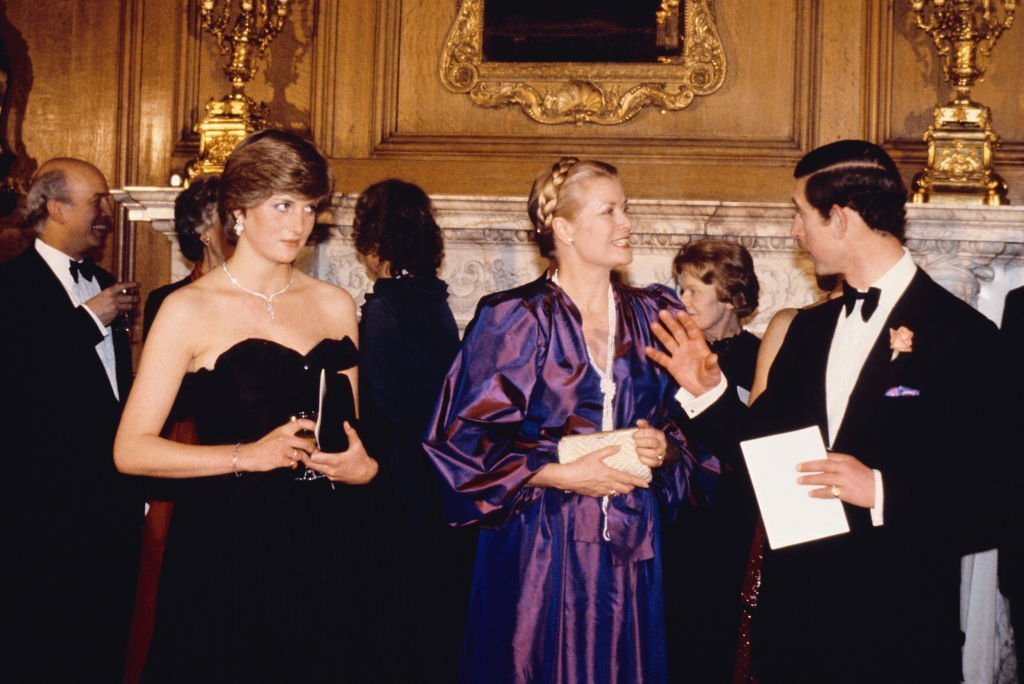 Princess Diana with Prince Charles and Princess Grace of Monaco, at a fund-raising Concert | Photo: Getty Images
SECRET STYLE HACKS OF QUEEN ELIZABETH
According to The Telegraph, Queen Elizabeth is resourceful with her accessories as well.
When the monarch places her purse on the table while having dinner, this signals that she wants things to be wrapped up in about 5 minutes.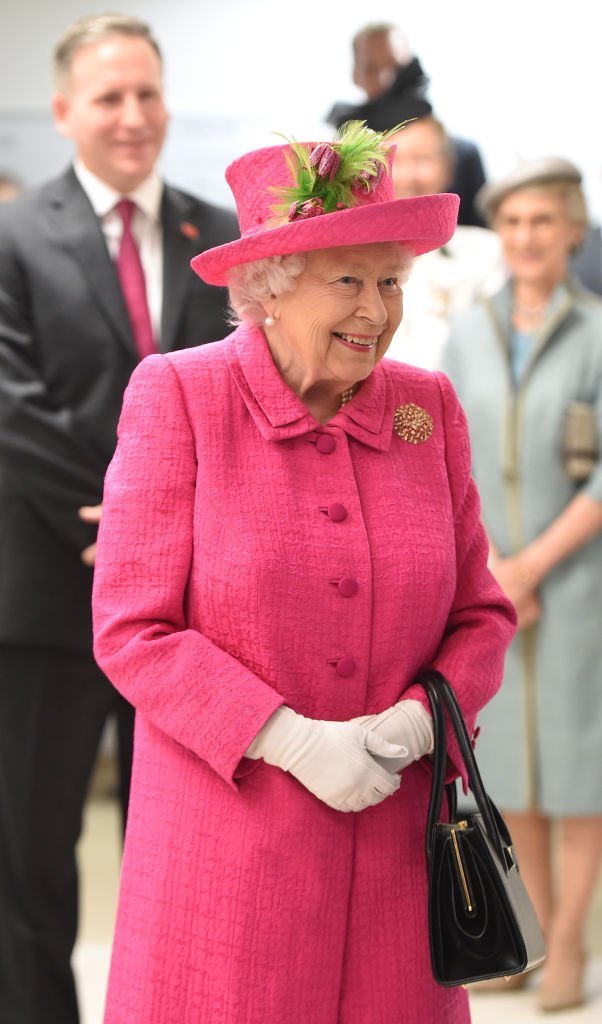 Queen Elizabeth II during a visit to Royal Papworth Hospital | Photo: Getty Images
On the other hand, if she places it on the ground, she's in a hurry to have the event ended.
While speaking to PEOPLE, Royal historian, Hugo Vickers explained that the monarch usually carries her bag in the nook of her left arm.
However, if she switches it to the tight whole having a conversation, it means she wants to be rescued from the conversation.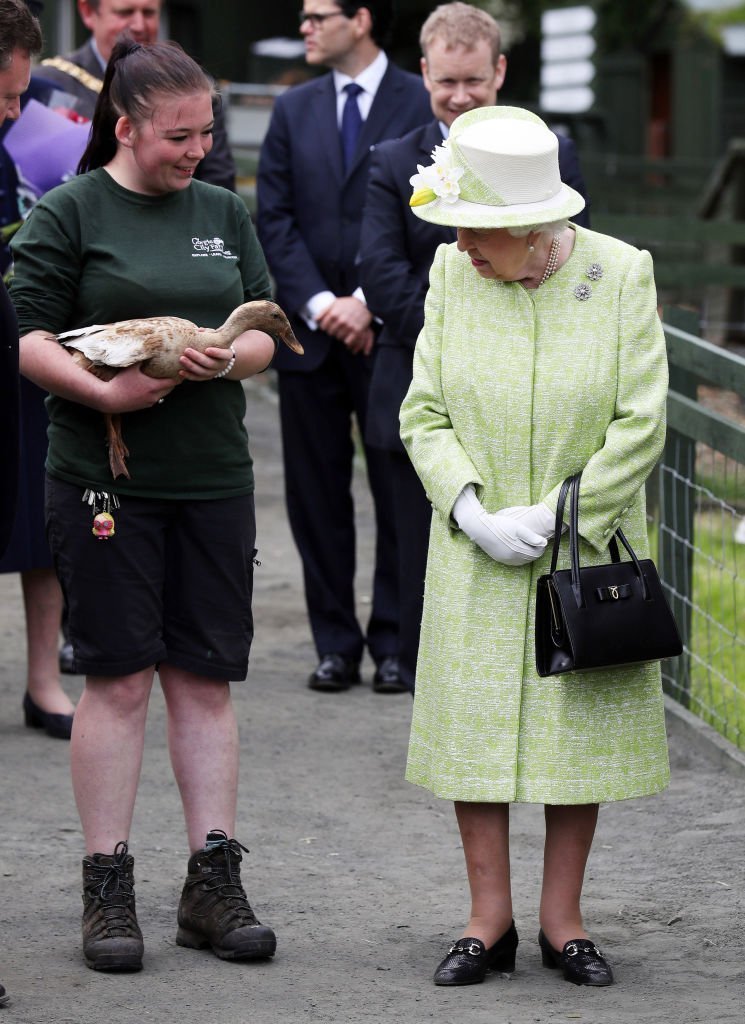 Queen Elizabeth II with keeper Maia Gordon during a visit to Gorgie City Farm | Photo: Getty Images
He mentioned that the dismissal would, however, be polite as the individual would not have a clue.
KATE MIDDLETON ALSO USES THE BAG TECHNIQUE
Another royal who employs the 'bag technique' is Kate Middleton. Royal etiquette expert Myka Meier told Good Housekeeping that the Duchess prefers to hold her handbag with both hands in cases where she's trying to avoid awkward handshakes. she said:
"When the Duchess is at an event, she holds her bag in front of her in both hands when shaking hands might be awkward. Or she can place it in one hand to have the other free."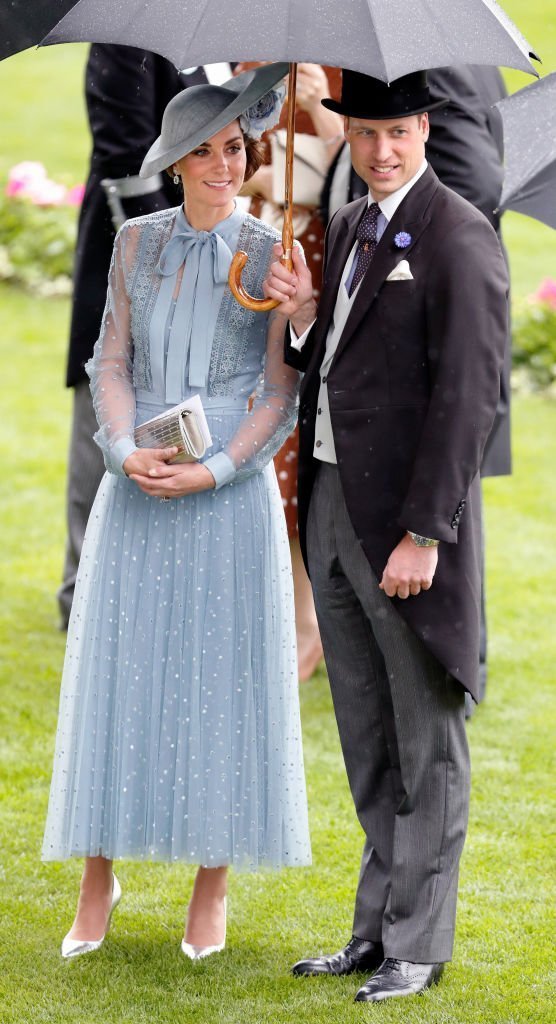 Catherine and Prince William shelter under an umbrella as they attend day one of Royal Ascot | Photo: Getty Images
It seems every fashion choice the royal women make has a hidden purpose it serves!
Please fill in your e-mail so we can share with you our top stories!