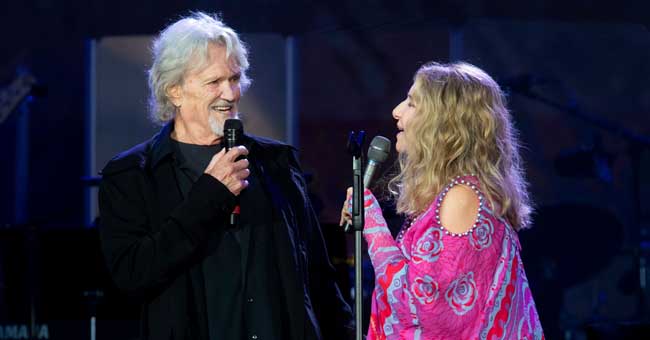 Getty images
Barbra Streisand Reunites with Co-Star Kris Kristofferson to Perform 'Lost Inside of You'

The audience at the British Summer Time got treated to a special moment when Barbra Streisand and Kris Kristofferson performed the song, "Lost Inside of You." The pair rolled back the years to deliver the performance of a lifetime.
Barbra Streisand and Kris Kristoffer gave fans at London's Hyde Park, who attended the British Summer Time a peek back into the memory lane with their duet, "Lost Inside of You."
The song which was a track from the 1976 movie, A Star is Born, was beautifully performed by the pair, leaving the audience thrilled.
BARBRA AND KRIS' PERFORMANCE
Barbra Streisand is the headline act at the Summer Time and has given the audience a glimpse into her singing talents. The legendary entertainer first enlivened them with the performance of the song, "Evergreen," which was also a track from the movie.
After that performance, she then introduced Kristoffer to the stage, and also tagged him as one of her favorite leading men. She also told the audience that they would be performing "Lost Inside You," which they performed together in the movie, adding that she loved the song.
The pair then delivered an incredible performance together. At the end of it, the audience was in full awe and appreciation of the performance. This comes weeks after Barbra had kept teasing her many followers on Instagram about her performing with him on stage.
OTHER GUEST ARTISTES ALSO PERFORMED
Kris Kristoffer wasn't the only surprise star to grace the event. Bryan Ferry also performed on the night as well. One hugely surprising artiste on the night was legendary singer, Lionel Richie, who joined her to sing the song, "The Way We Were." The audience were indeed delighted to have him around and showed it with their wild applause.
BARBRA STREISAND SINGS AGAINST PRESIDENT TRUMP
Barbra Streisand has released a new tune titled "Don't Lie to Me." The song, which will be on her forthcoming album, "Walls," is a diss song against U.S President, Donald Trump. In the song, Barbra asks the President to tell the truth.
Lines from the song questioned the President's ability to sleep even as the world kept turning, and America's legacy becomes undone. Barbra's upcoming album billed for release in November would be her first album of original material since 2005 when she had a collaborative LP with Barry Gibb.
Please fill in your e-mail so we can share with you our top stories!