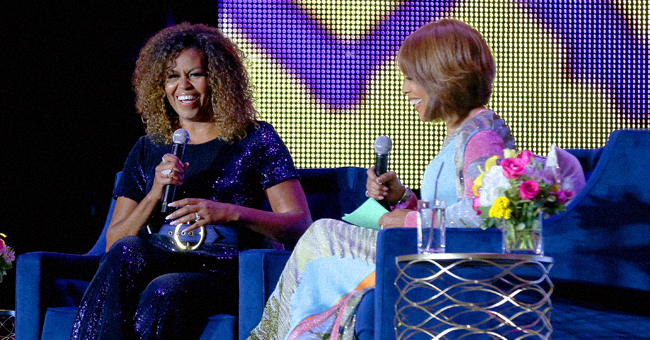 Getty Images
Michelle Obama Wore Her Natural Hair in Blonde Ombré Curls for Essence Festival

Michelle Obama wowed her audience at this year's Essence Festival as she attended her talk in her natural curls and a sparkly jumpsuit that screamed girl power.
Michelle Obama definitely knows how to make a statement, be it in the way she speaks, the way she writes, and sometimes, even the way she dresses up.
Serving Some Looks
As the headliner for the special 25th Anniversary of Essence Festival, Michelle made sure to serve some looks. She opted to go for a sequined Sergio Hudson wide-leg jumpsuit, wearing it with a statement belt that featured an oversized brass gold buckle. Since her jumpsuit spoke for itself, she opted to go for a pair of simple black shoes.
Of course, beaming with pride, she decided to give her viewers a glimpse of her natural curls, which she wore with blonde ombre highlights, perfect for the summer.
The former First Lady went for a more natural makeup look while being interviewed by her friend, Gayle King.
On Leaving the White House
During her segment in the festival, Obama revealed that her daughters, Malia and Sasha, cried when they moved out of the White House as they've spent most of their childhood there.
When you've lived in the White House for eight years, it might be quite difficult to leave right then and there when a new president gets elected. However, it's not just presidents themselves who get attached to the mansion in the middle of Washington, D.C., but even their families.
Sasha and Malia were used to it all - the politics, roaming the vast halls of the White House, the meetings next door, having to have a guard even when they went on sleepovers. These all became normal to Malia and Sasha, that it became weird when they had to live without them.
Life After The White House
Ultimately, they realized they'd miss the life they've lived in the White House, and all the special memories that came with it.
Now, both Obama women are in college, and it's been difficult for Michelle and Barack to go home to an empty nest.
Please fill in your e-mail so we can share with you our top stories!