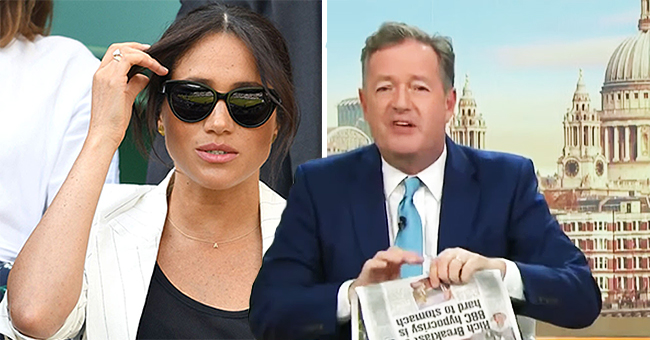 Getty Images / youtube.com/ET Canada
Meghan Markle's Request for Privacy at Wimbledon Sparks Backlash from Piers Morgan
Meghan Markle has become the subject of numerous spiteful comments after she reportedly requested privacy at a Wimbledon event.
Markle made a surprise visit to Wimbledon last week to watch Serena Williams. The event was a public one, but the former actress reportedly made demands that nobody should be allowed to take photos of her during the event.
SALLY JONES' BACKLASH
According to "The Telegraph," Sally Jones, a media consultant, was instructed not to take photos of the Duchess by her security men. Jones had been seated in the same row as the Duchess and was therefore near her.
The 64-year-old, however, claimed that at the time of the warning, she had only been trying to take a shot of Serena's fantastic play in the court.
The royal protection officer's words that Markle was at the event "in a private capacity," seemed quite outlandish to Jones especially when she didn't intend to take photos of the new mother. Jones said:
"There were around 200 photographers snapping away at her but security were sent to warn an old biddy like me. It makes them look silly. It's childish and takes us for fools,"
Jones, who claimed to be royalist, further explained that she had not even been aware of the Duchess's presence until the security man walked over to her.
Jones' frustration comes through as she disclosed that her response to him about the many cameras directed the Duchess's way made him "a little uncomfortable."
PIERS MORGAN SPARKED A DEBATE AS REGARDS THE ISSUE
Jones isn't the only one that has made a public backlash at Markle, British journalist Piers Morgan did too. Morgan reacted to reports of Markle's alleged request for privacy on "Good Morning Britain."
He labeled the act "hypocritical" and mentioned that as the Duke and Duchess of Sussex, they are actually "not private people."
Thankfully, Meghan had faithful royalists taking to Twitter to defend her. Fans ultimately bashed Morgan and pointed out the fact that everyone, Markle included, has the right to privacy.
All in all, it is good to see that Meghan still has many fans supporting her despite the distressing nature of the fast circulating news.
While there has been no formal statement from Kensington Palace as regards the issue, a Royal source explained to "Fox News" that a royal's request for privacy at an event like Wimbledon isn't strange because it enables royals to "properly engage with people and events."
Please fill in your e-mail so we can share with you our top stories!