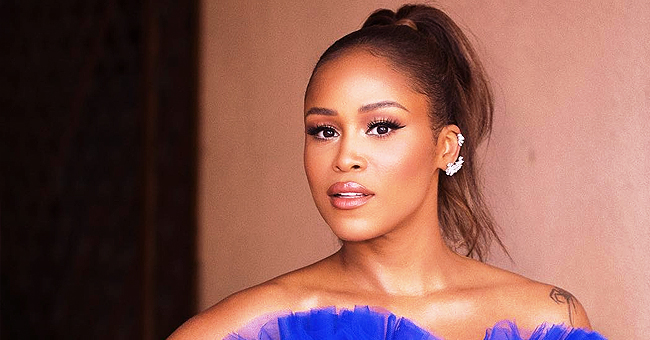 Instagram/therealeve
Eve's Rarely- Seen Mom Is a Beauty in White Denim in Recent Beach Photo

Rapper and actress Eve and her beautiful mother both had a lovely time at the beach recently. The 40-year-old took to Instagram to share adorable images of their time out.
Eve with her family and friends opted for the beach in celebration of the Fourth of July, America's Independence day.
HER INSTAGRAM POST
In the first image shared, the rapper's mom could be seen standing between her daughter and Michelle Lovitt, who seems to be a family friend. Eve's mother looked splendid adorned in a flowery free top and white pants next to her daughter who had on a flowy cape wrapped around her.
The three ladies, however, had on shades. The second image, shows Eve with the men (her husband, Jamie Foxx and another friend.)
"I think we had a #happy 4th with my #mommyinthemiddle (and some random dude in hockey gear in the back wtf) @mllovitt @iamjamiefoxx @scottstorchofficial #philly."
Fans were, however, swift to comment under the images with some pointing out how beautiful the actress' mother looks and affirming what a legendary holiday theirs was.
HER MARRIAGE
For long, Eve never thought she'd one day say the words "I do" till she met her husband, Maximillion Cooper. The actress revealed on her talk show, "The Talk" how she was totally fine with living happily ever after as a single woman till Cooper swept her off her feet by being such a caring person.
The rapper who started dating her husband in 2010 and married him in 2014 had this to say,
"We just love each other and support each other, and I've never had that before, and I can't wait to have a baby, so I can feel that love."
Eve also revealed that although she isn't a natural romantic, she is gradually learning and becoming better at it with time.
MENDING OLD WOUNDS
However glam and happy her life may seem to be, things have not been all rosy for the actress. For over two decades, Eve has had a fall out with her father, who abandoned her at 12. He, however, came back when she was 37 with the hopes of mending the broken relationship.
On "The Talk," the co-host revealed that she is willing and trying to give her dad another chance and let sleeping dogs lie.
Please fill in your e-mail so we can share with you our top stories!