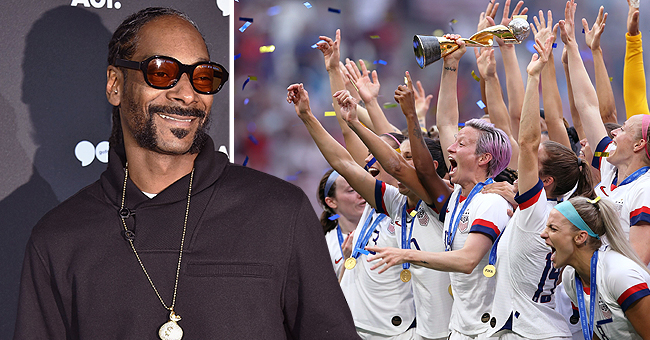 Getty Images
'Pay Them Ladies!' Snoop Dogg Demands Equal Pay for US Women's Soccer Team

In support of the plight of the US women's soccer team which recently bagged the World Cup Championship, Snoop Dogg released a clip demanding for their higher pay and slamming the men's soccer team in the process.
His interest is music plus a lot of other things. And recently, Snoop Dogg revealed he's also passionate about giving women equal rights. The rapper took to his Instagram this week in response to the controversy surrounding the US women's soccer team and their fight for equal pay.
SHEDDING LIGHT ON A LOSS IN THE MIDST OF VICTORY
In the aftermath of their second consecutive World Cup win which took place in France, the US women's soccer team members have been rallying for their right to fair pay. As a result of their championship win, they took home $4 million in prize money, a meager amount compared to the $38 million the French men's soccer team got for winning the 2018 World Cup in Russia.
The women's team is engaged in an ongoing dispute with the US Soccer Federation, calling out its skewed lines when it comes to paying women in the sport.
According to the New York Times, the disparity in pay between men and women in soccer wasn't just limited to the prize money. Apart from the $4 million win, the women were paid for qualifying in the World Cup and then received bonuses for making it to the finals which amounted to $250,000. When they won, each of them only received $110,000 to $120,000 from the prize money.
In comparison to the French men's team, what the women got in total was approximately one-tenth of what the men raked in for achieving the same feat, a realization that didn't go unnoticed to the victorious women as well as the public. And that includes Snoop.
"The women should be getting $500K per athlete. Snoop Dogg says so..."
"SNOOP DOGG SAYS SO"
The rapper aired out his opinion about the matter through a clip he shared on his Instagram. He captioned it in short statements, "Soccer team. Ladies need. They issue. Break bread or fake dead" and explained his point in the video.
"Food for thought," the outspoken artist began. "Shout out to the USA women's soccer team, for their fourth World Cup, but what I wanna talk about is, they only get $90,000 per player, but the men, if they win it, they get $500,000 per player."
He proceeds to rant about the "sorry ass [expletive] US men's soccer team" and called it out for never winning or making it to the first round after which he drives to his main message.
"Man, pay them ladies, man. Pay them girls what they worth. The women should be getting $500K per athlete. Snoop Dogg says so...Them girls have won four World Cups, and $90K? Man, please. Pay them $500K per player – Snoop Dogg says so."
BARACK OBAMA TWEETS HIS CONGRATULATIONS
Former US president Barack Obama was one of the many A-listers who tweeted his congratulations to the US women's soccer team.
"An incredible team that's always pushing themselves – and the rest of us – to be even better. Love this team," he wrote.
Meanwhile, his wife Michelle Obama retweeted a photo of the champions and captioned it, "So proud of you, Team USA – you inspire us all."
TEAM CAPTAIN MAKES A STATEMENT
The team was led to victory by its captain, Meghan Rapinoe who herself made a statement by refusing to sing the National Anthem. Much like Colin Kaepernick, Rapinoe has issues regarding showing her allegiance to the flag in light of police brutality and racism.
Please fill in your e-mail so we can share with you our top stories!