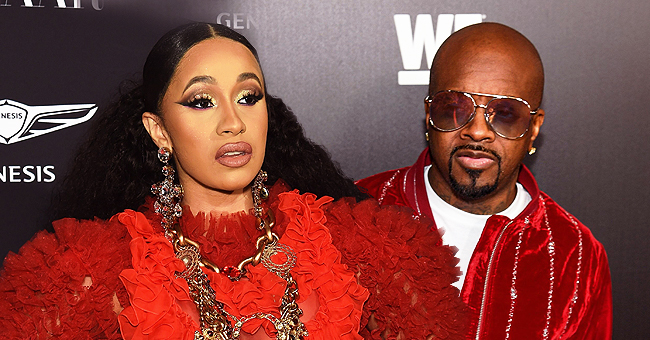 Getty Images
Jermaine Dupri Says Today's Female MCs Are like 'Strippers Rapping,' Cardi B Responds
Jermaine Dupri controversially called this era's female rappers "strippers," and Cardi B isn't pleased.
While speaking to People TV, the hip-hop great was asked to name his favorite female rappers, with the host giving him hints like Megan Thee Stallion, Nicki Minaj, and Cardi B. However, Jermaine was left blank and said he didn't have one.
No Favorites
According to Dupri, it's difficult for him to choose a favorite rapper because they are all rapping about the same things. He shared:
"I don't think they're showing us who's the best rapper. I think they're trying to show⁠—for me, it's like strippers rapping. And as far as rap goes, I'm not getting who's the best rapper. I'm getting like, 'OK, you got a story about you dancing in the club, you got a story about you dancing in the club, you got a story about you dancing in the club.' It's like, 'OK, who's going to be the rapper?' At some point, somebody's going to have to break out of that mold and just show us⁠—talk about other things, just rap about other things besides that."
When Cardi B caught word of his interview, she decided to share a piece of her mind on Instagram. Captioning it "SUPPORT SUPPORT SUPPORT," she recorded a video of herself explaining why her songs seem to be explicit.
On what her audience likes to hear
To her, it's because it's what people want to hear. She cited an instance when she rapped "Be Careful," a song that tried to deviate from rapping about sexual topics, which people did not like.
"It seems like that's what people wanna hear. I ain't even gonna front, because let me tell you something: When I did 'Be Careful,' people was talking mad [expletive] in the beginning, like, 'What the [expletive] is this? This is not what I expected. I expected this, I expected that.' So it's like, if that's what people ain't tryna hear, then, alright, I'mma start rapping about [sexual matters] again."
On supporting women rappers
Cardi adds that of course there are also some rappers who try to rap about other things, such as the realities happening in the world, but they aren't given any attention. Cardi asked her followers to support these rappers, and stop blaming other rappers like her on what they rap about.
"Don't blame that [expletive] on us when y'all not the ones that's supporting them."
Her Controversial Stripping Past
When Cardi B speaks about stripping in her raps, that's because it was her job, and she's had first-hand experience with it. It's not something she is ashamed of, as it's how she made money before getting famous.
However, her days as a stripper are highly controversial after she revealed she would drug and rob men who wanted to sleep with her.
Now that people are fully aware of what she'd do, it is unclear why she was never implicated or even investigated for it.
Please fill in your e-mail so we can share with you our top stories!