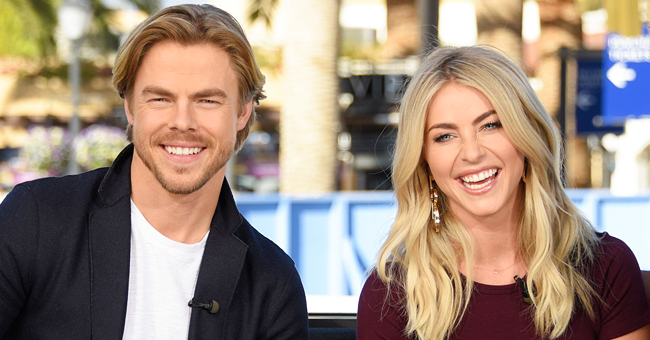 Getty Images
Derek Hough Shares 'Golden Buzzer' Worthy Video of Sister Julianne Falling into a Pool

Sibling love! Derek Hough shared a "Golden buzzer" worthy video of his sister, Julianne Hough, falling into a pool, and it's both embarrassing and funny.
Derek Hough shared a funny and embarrassing video of his sister, Julianne Hough, falling into a pool, on Instagram.
In the clip, the "American Got Talent" judge looked confident in a black two-piece swimsuit as she prepared to make a jump from an elevated platform.
Things went awry when she lost her footing after making a run for the jump, and despite the cheering from the onlookers, the dancer flailed and landed with a splash into the water.
Derek enjoying his sister's epic fail wrote alongside the video,
"I would have given this dive from @juleshough a golden buzzer."
The professional choreographer attached a thumbs-up emoji, adding that he could not wait to find out the contestant Julianne would give her golden buzzer to on AGT.
The hilarious video got a lot of reactions from his followers, who enjoyed the awkwardness of it all, and AGT's Instagram handle also left a comment. The account handlers scored their judge based on her performance, giving her 6/10 for approach, 5/10 for hang time, and 10/10 for the hilarious landing.
Derek, a Salt Lake-born performer, has made a name for himself in the dance world. The 34-year-old choreographer started his dancing career when he was 11-years-old and has not looked back since.
In 2015, the DWTS winner wrote a book that became a New York Times Bestseller, "Taking the Lead: Lessons from a Life in Motion." It chronicled his career journey so far, and the things he's learned along the way.
In the description, Derek noted that there were times he stumbled, tripped over himself, and fell, while at other times, he got to win and take home a trophy.
The dancer explained that every move and every step he has taken in his life helped to shape him into the man he is today, with zero regrets.
There is not much in Derek's life for him to regret; he remains the only competitor to have won "Dancing with the Stars" six times and has two Emmy Awards for best choreography out of nine nominations.
The "World of Dance" judge has an estimated net worth of $4 million, and he also has film and television credits to his name.
Derek got his wish to see who his sister would give her golden buzzer to, as Julianne gave it to 12-year-old Luke Islam, who said the siblings are one of his greatest inspiration.
Please fill in your e-mail so we can share with you our top stories!