That Time Steve Harvey Gave Terminally Ill 'Family Feud' Winner an Extra $25K
TV host and comedian Steve Harvey revealed that he gave a man who came on the "Family Feud" show some money after sharing news of his health battle.
The "Family Feud" anchor opened up about what he encountered that brought him tears a while back on the set of the show.
An emotional story
In August 2016, a clip surfaced on the internet, which was titled, "Unforgettable Family Feud Moment." This intriguing video possessed the emotional moment between the show's host and his competitors.
Steve claimed that one competitor who had been on the shoot for three days started sweating profusely in the course of the show.
The filming crew had to give him a new outfit, and the comedian joked about this man's condition as he thought he was perplexed due to not having won the game yet.
Eventually, the "Anonymous" contestant won about $20,000 and how he reacted puzzled the show's host even more. In Steven's words:
"...the man finally won $20,000 on the game show, but he burst into tears. He just fell on his knees, and he wouldn't stop crying. They picked him up."
The "Family Feud" star continued by explaining that he inquired from the man why he was emotional, and the competitor shared his grief with him. The new $20,000 winner said that he had suffered an incurable disease that gave him an ultimatum of three months to live.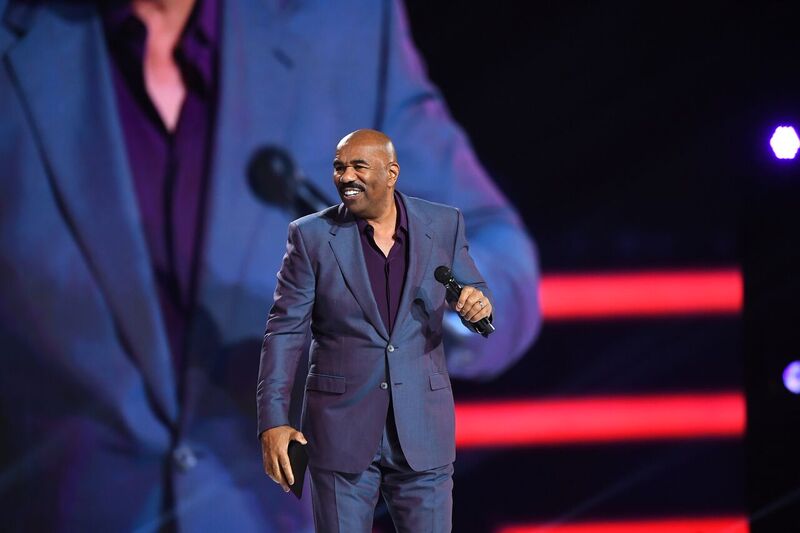 The man told the showrunner that he wasn't able to foot his bill and that he would be leaving his family broke!
The African American host revealed that he gave him an additional $25,000 personally. Although the man's name was kept discreet, Steve's revelation got him praises from fans.
According to the research by NerdWallet in 2015, people who suffer from terminal illnesses go through a funding site to garner money. About 930 million people out of 2 billion victims used the GoFundMe portal to source for funds.
The host is, however, no stranger to giving, as he started to build his career from scratch, with next to nothing. He nibbled his way up the ladder and turned out to be a force to reckon with in the world of entertainment.
Steve's early years
Steve started tailing a career in comedy while struggling; he did all types of odd jobs and was homeless. He turned out to be an influential and affluential person, with his Christian faith in one hand, and his charitable deeds in another.
Steve along with his wife runs a charity organization; they explain that their aims and objectives are to help the society, by addressing the limitations such as education, and the necessary things needed for the fundamental growth of a child.
In 2017, Celebrity Net Worth listed him to be worth $120 million. This wealth has been accrued over the years through various channels; all seemingly points back to entertainment.
Steve Harvey's contribution shows that the comedian is not just about the jokes, but that he also represents a strong and serious personality that people all over the world can benefit from.