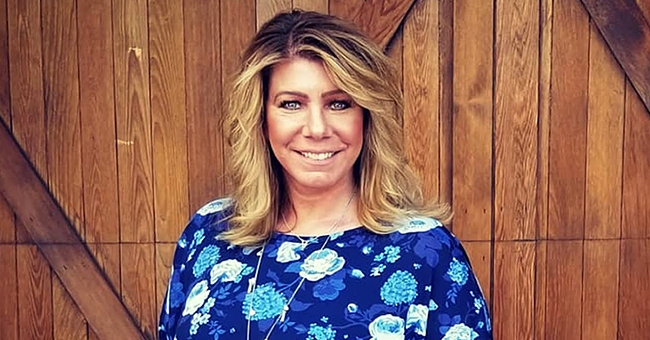 instagram.com/lularoemeribrown
Meri Brown of 'Sister Wives' Fame Intrigues Fans with a Photo Taken Alongside a New Mystery Man

"Sister Wives" star Meri Brown sparked a flurry of speculation about her relationship status when she posted pictures of a new man that fans had never seen before.
Meri Brown, 48, shared a photo on Monday of her and a brown-haired man whom fans could not identify. But it was Brown's caption that really got the talk going in the comments.
In the sweet selfie, a blue-eyed Brown smiled into the camera as the man put his arm around her. Both of them displayed toothy grins as they stood in a sunlit garden. The post is found below.
"And then you meet someone who was right in front of you all along," Brown wrote in the caption. The reality star has been in a relationship with her spiritual husband Kody Brown for years now.
Kody, 50, is also married to Janelle Brown, Christine Brown, and Robyn Brown. Kody and Meri, however, have been having their fair share of problems on the show recently, and fans were already wondering if a split was coming.
Based on the comments, many fans hoped that that was exactly what happened. "Please tell me your leaving Kody!!!!" one person wrote along with several hand-clapping emoticons. "Such a cute couple," said another.
While some made baseless presumptions, others wanted to hear it straight from the horse's mouth. "Just gonna make a statement like that and leave your fans hanging ?? Clarify please!!" wrote one fan.
Others were simply amused by the ideas put forth about Brown's relationship status, while many blamed Brown for opening a can of worms with her suggestive caption.
There was an argument that it was obvious that nothing was going on, though. Thanks to the hashtags Brown included in her caption, some fans felt that the comments were completely uncalled for. "LivingMyWhy #BecauseICan #FriendsWhoBecomeFamily #JustSmile."
The hashtag "#FriendsWhoBecomeFamily" was the strongest indication that nothing was going on, especially considering Brown used it just the day before when she attended the funeral of her friend Bruce Stone.
Still, this isn't the first time that Brown has made vague posts with suggestive posts that fans simply took and ran with. In late June, she reportedly shared a photo with text reading "Never water yourself down just because someone can't handle you 100 proof."
Several fans thought that the words were pointing to existing drama between Brown and the rest of her family. Ironically, Brown was the first to be legally married to her husband.
However, when Robyn came along, the family patriarch divorced Brown so he could marry Robyn and adopt her three children. Brown was upset by this and has since suffered several other difficulties in the relationship.
There was one time she fell victim to a catfisher online who she believed to be a man but who was actually a woman. Brown recovered from the incident in grand fashion and went on to open her own business.
However, she put a strain between herself, her husband and her co-wives since she started the business behind their backs. She also transformed a family home into a bed and breakfast in Utah.
Brown may have a lot going on in her life, but it's definitely up to her whether or not she chooses to share all the details with fans. What we know for sure is that, like everyone else, she just wants to be happy.
Please fill in your e-mail so we can share with you our top stories!