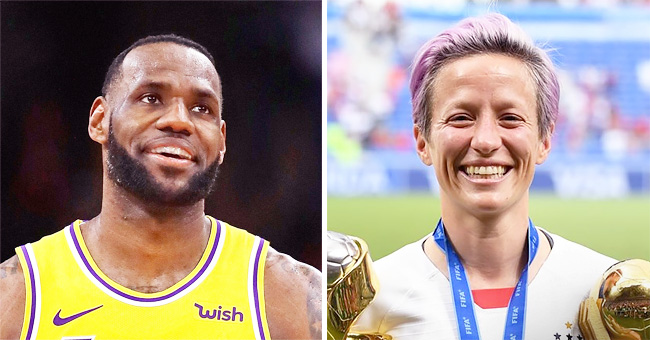 facebook.com/mPinoe + Getty Images
LeBron James Parties with US Soccer Star Megan Rapinoe after 4th World Cup Win
LeBron James and US women's soccer team co-captain Megan Rapinoe recently reunited at a party in Los Angeles. The pair has more in common than sports: they both have been singled out by President Donald Trump in a not-so-friendly way.
Fresh off winning the 4th FIFA World Cup in women's soccer, Megan Rapinoe and some of her teammates were among guests at an Uninterrupted party at The Hollywood Athletic Club, where they got to celebrate their iconic victory alongside LeBron James.
INTERRUPTING THE PARTY
Uninterrupted is a media start-up founded by LeBron and Maverick Carter, which offers a variety of content including podcasts, full-length documentaries, and web series featuring athletes hailing from different teams in the US.
"You have an incredible responsibility as the chief of this country to take care of every single person, and you need to do better for everyone."
At the party, Maverick Carter stopped the music to make a special toast for Rapinoe and her teammates, inviting them to the stage and popping champagne in their honor, as he mentioned their bravery not only for winning the world cup but also for standing by their beliefs and demanding equal pay from the US Soccer Federation.
Later, LeBron and Megan posed for a photo together, with the NBA star holding a glass with champagne and Megan holding the whole bottle.
"Name a more dominant duo... we'll wait," read the caption of the pic shared by Uninterrupted.
LeBron and Megan have one thing in common: they both have expressed their disagreement with President Trump's administration and, in return, have been targeted by him on Twitter.
REPINOE VS. TRUMP
Earlier this month, an interview where Rapinoe exclaimed that she wouldn't go "to the f*****g White House" if the national team were to win the World Cup went viral on social media and earned a response from Trump, who said Megan "should WIN first before she talks!"
"Megan should never disrespect our Country, the White House, or our Flag, especially since so much has been done for her & the team," the president added. "Be proud of the Flag that you wear. The USA is doing GREAT!"
Even after winning, Megan maintains her position of not going to the White House, and she recently sent a message to Trump in an interview with CNN's Anderson Cooper.
"Your message is excluding people," she said while staring at the camera. "You're excluding me. You're excluding people that look like me, you're excluding people of color, you're excluding Americans that maybe support you."
Rapinoe, an outspoken advocate for gender equality and equal pay, continued:
"You're harking back to an era that was not great for everyone -- it might have been great for a few people, and maybe America is great for a few people right now, but it's not great for enough Americans in this world."
She ended her message, saying: "You have an incredible responsibility as the chief of this country to take care of every single person, and you need to do better for everyone."
JAMES VS. TRUMP
Like Rapinoe, James was once on the receiving end of one of Trump's tweets.
Last August, James earned the President's attention after an interview with CNN's Don Lemon where he accused Trump of using sports to divide the country.
James' allegation followed Trump's previous attacks on black athletes, including Colin Kaepernick, who started to kneel for the national anthem at NFL games to protest against racial injustice in the US.
"Sports has never been something that divides people. It's always been something that brings someone together," LeBron said.
In response, Trump called James "dumb." He tweeted:
When asked by The Hollywood Reporter if it bothered him to be called dumb, James laughed it off.
"No, because I'm not," he said. "That's like somebody saying I can't play ball. That doesn't bother me at all. What bothers me is that he has time to even do that. He has the most powerful job in the world. Like, you really got this much time that you can comment on me?"
Please fill in your e-mail so we can share with you our top stories!