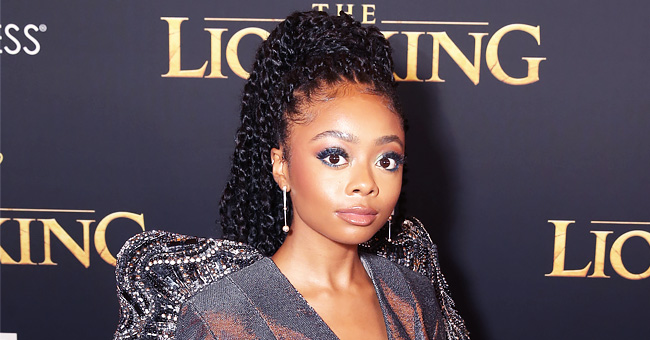 GettyImages
Watch Disney Star Skai Johnson Explain Her Goddess Twists to a White Woman
Skai Jackson is still mourning the death of a close friend, but on Wednesday, the Disney star took the time to educate an acquaintance on the ins and outs of her beautiful hair and its goddess twists.
For some white people, black hair seems like one of the biggest mysteries out there. However, most black women get bored or offended easily when they're questioned about it, which was not the case with Skai Jackson.
A NEVER-ENDING Q&A
On Wednesday, the 17-year-old "Bunk'd" star made an Instagram Live, and at some point, a woman who remained out of frame started to ask a bunch of questions about Skai's hair.
"Who did your hair? Someone asked," said the woman. "And you sleep in this hair—that seems so painful."
"No, I take it out every night," Skai replied sarcastically. "It seems so painful," the woman repeats, causing Skai to clarify that "Yes I sleep with it every night! How else would I sleep?!"
"Fashion is about trying out new things and having fun, and me and my stylist, Zadrian Smith, are going to keep doing just that."
"They seem so painful, I didn't know," says the friend, which prompts Skai to take one of her twists and offer the woman to touch it. "No. Look, they're soft. They're not painful," the actress explains.
"I literally believed you when you said, 'Yeah, I take it out every night,'" says the woman. And then, after touching Skai's hair, adds:
"Oh my God, they are. You know it doesn't look soft. This is how it is for every braid ever? Is it soft? They're small. I'm talking about the big ones. This is not considered a braid?"
Although Jackson seemed taken aback and a bit confused by the woman's comments, she kept her patience as she explained that no, those weren't braids but twists and that braids are actually harder but not painful to sleep in either.
THE IMPORTANCE OF EDUCATING OTHERS
The clip, shared on different social media platforms, has earned Skai the praise of fans for taking her time to explain to a white woman the importance of her crown respectfully and calmly—even though she was exasperated.
"I mean. I'm glad she handled it well. The woman is ignorant because she doesn't wear the hairstyle. I'm actually happy to of seen two people learn about each other. This was good. She educated a person kindly," wrote one user.
And another added,
"She handled this well. The look on her face was priceless tho like "are u serious right now"....that white girl on the ave right now looking for someone to braid her hair. Watch."
THE PINK HAIR CONTROVERSY
It's not the first time that Skai had to address people about her hair.
Last year, she rocked a pink hairstyle at the New York Fashion Week Escada show that matched with her pink sequin skirt by the designer. And although Skai was feeling her fantasy, people on social media had nothing but critics about the look.
"I was really surprised to see the comments on social media that were being said about my decision to try out a new hair color and style," she later wrote in a piece for Vogue. "Some people thought that pink hair was not age appropriate for me or that it didn't match my skin color, which I found very confusing."
And continued:
"I would only ask that before you throw shade, you stop and think about all the people who have ever said something negative about you or someone you love, and how that made you or them feel. Fashion is about trying out new things and having fun, and me and my stylist, Zadrian Smith, are going to keep doing just that. Pink hair for everyone!"
DEALING WITH GRIEF
Although Skai seemed in a good mood on her Wednesday live stream, the actress has been going through a hard time after the passing of her friend and "Jessie" co-star Cameron Boyce, who died at age 20 from a seizure while in his sleep.
Jackson and Boyce were pretty close, and she says the actor was like a brother to her.
"And he was just a happy person, it was very unfortunate," she recently told Entertainment Tonight. "But we're going to continue his legacy, and I know he would be proud of us."
Please fill in your e-mail so we can share with you our top stories!