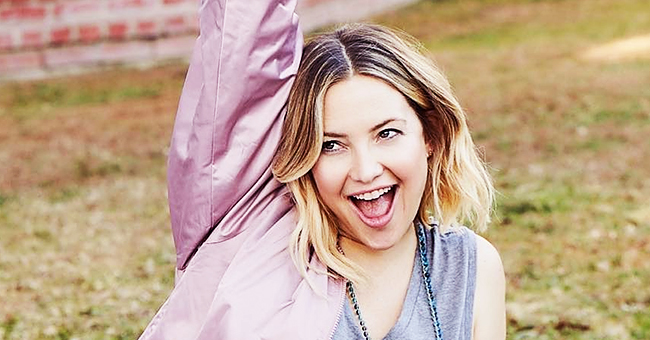 instagram.com/katehudson
Kate Hudson Shares a Photo of Her Three Kids with the Older Ones Eating Ice Cream
Widely acclaimed "Almost Famous" actress, Kate Hudson recently shared a photo of her three children taking in the heat of the summer.
Via Instagram, the proud mother of three shared a picture of her three children: Ryder Robinson, 15, and Bingham Hawn Bellamy, 7, and little Rani Rose Hudson Fujikawa, who is nine months old.
In the picture, Rani Rose is pictured lying down in a grey pram while her older siblings are sitting afar off busy eating ice-cream.
The normalcy of the photo is rather charming as the picture was taken outdoors although their exact whereabouts remain unascertained.
All of Hudson's children dressed in a relaxed manner; while the boys sat together under a shade, little Rani is much closer to the camera lying under the shadow of her pram.
She made for an especially adorable spectacle with her cute chubby thighs up in the air in the shot.
That particularly had fans oohing and aahing over just how adorable the toddler is even when she is just lying down and staring curiously at whoever was behind the camera.
Hudson's reason for sharing the photo couldn't be more obvious seeing how cute all three children looked in the picture.
The 40-year-old star wrote in her caption alongside an ice cream emoticon:
"How we keep cool #Snowballin'."
Fans expressed their admiration by taking to the comments section to compliment the lovely picture, and some even tried to guess the location of the beautiful family. So far, the photo has amassed well over 80,000 likes and hundreds of comments.
One fan, dizzy_izzy_22, in apparent agreement with Hudson's caption, wrote:
"I totally do the same thing! You are an awesome mom, and I aspire to be like you one day!"
Another @michellemontini said of little Rani Rose:
"She will have two great protectors!! Older brothers are the best!"
That couldn't be truer! Going by Hudson's constant Instagram posts, the boys adore the baby. Most of the other comments were from fans who couldn't hold in how breathtakingly adorable little Rani Rose is.
With the frenzied response from netizens, there is no reason why Hudson shouldn't make prideful displays like this one!
The award-winning actress is currently in a relationship with Danny Fujikawa, who is eight years younger. For the beautiful couple, age is just a bunch of figures, and they have remained strong ever since they started dating.
Although Rani Rose isn't even a year old yet, the couple already have plans to birth another child, and Hudson also expressed hopes it would be a boy!
Please fill in your e-mail so we can share with you our top stories!