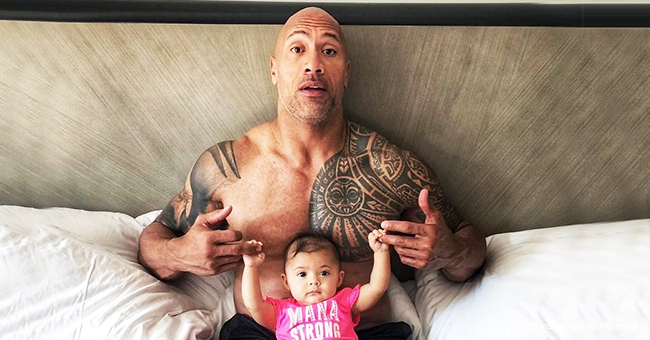 Instagram.com/therock
Dwayne Johnson Speaks Proudly about His Three Daughters Simone, 17, Jasmine, 3, and Tiana, 1
While he is one of Hollywood's biggest badass on screen, he is a much tender guy at home.
The latest edition of the Fast & Furious franchise, "Hobbs & Shaw," premiered on Saturday night, and while one of its main acts, The Rock was giving insight into the movie, he also managed to mention how life at home was.
"Jasmine, She's so beautiful, and her and Tia — and of course my oldest Simone — it's just the best thing. I have a house full of just strong, bad-ass women. It's terrifying, but it's awesome."
Dwayne while speaking about his daughters with Terri Seymour of Extra, gushed about how incredible his girls are.
Enjoying the moment, the 47-year-old actor went ahead to describe what growing up for him felt like.
According to Dwayne, his father was very tough on him as he was the only child.
However, with his girls, it is much more different with was he described as 'estrogenic energy'.
And according to him, he hopes to set a good standard of what a man should be in their lives.
IT ISN'S ALWAYS SO SWEET WITH FATHER
Although Dwayne Johnson might feel good sharing amazing news about his daughters with the world, it isn't always so pleasing for the father of three.
Back in June, he was a victim of a series of criticism following the upload of images of his 3-year-old daughter on Instagram.
The photograph which featured the dad and his daughter by the pool was taken as an offence by several internet users who had issues with the post because Jasmine didn't have a swimsuit on.
A commenter wrote;
"As a mother to female human please cover her nakedness on media platforms,"
Dwayne eventually took down the post.
Well, the dad certainly has a lot to forward to with his girls and also the premiere of the spin-off.
The movie features co-stars, Jason Statham and Idris Elba, who takes on the role of the villain in the film. On the combo, this is what Dwayne has to say;
"We have a triple throwdown, smack down, every-way-down you want to say, between myself, Idris and Jason that goes down at the end of the movie. It is just bananas."
Please fill in your e-mail so we can share with you our top stories!