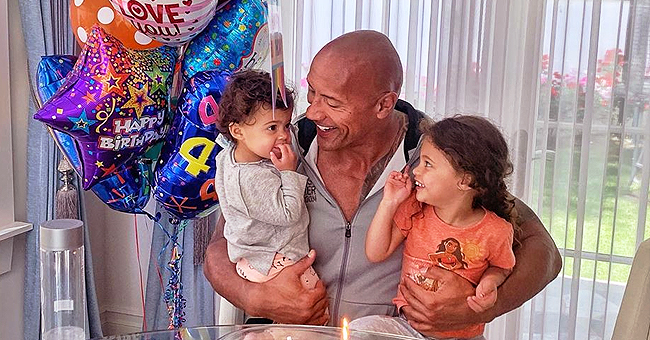 Instagram/therock
Dwayne Johnson Deletes Photo of Daughter at a Pool after Criticism
Dwayne Johnson deleted a photo of his daughter from Instagram after a wave of criticism from fans.
Movie star and action hero Dwayne Johnson came under fire from some of his 146 million followers on Instagram over a photo of his three-year-old daughter Jasmin.
Johnson deleted the Instagram post, but the criticism from his followers continued unabated.
"THE ROCK" FACES BACKLASH FROM FANS
The hoohaa was occasioned by a photo of little Jasmine, standing on the side of a pool with no bathing suit on, and about to jump into her father's arms. What shocked fans was that "The Rock's" daughter wasn't wearing a bathing suit.
Johnson's mother is Samoan, and his father is Rocky Johnson, a Black Canadian pro-wrestler.
COMMENTS FROM FANS LEAD TO REMOVAL OF PHOTO
Although the post received over 2.9million likes on Instagram, critical comments abounded.
'I love the Rock but this pic isn't necessary for social media. They made bathing suits for a reason."
"Why would you expose a young child's body to millions of people?"
NUDITY IN THE POLYNESIAN CULTURE
However, several fans also backed "The Rock" and commented that nudity is not a taboo in the Polynesian culture.
"Those who are sexualizing this picture of his daughter because she is swimming with no clothes on obviously don't know what it's like to grow up in the islands or in a Polynesian household."
"This is very normal and not sexual in any way with our culture."
"THE ROCK" IS A DEVOTED FATHER
Johnson's mother is Samoan, and his father is Rocky Johnson, a Black Canadian pro-wrestler.
The "Jumanji" star integrates both sides of his rich cultural heritage in his life. Johnson shares two daughters with singer Lauren Hashain, 34.
Hashain is the daughter of Sib Hashian, the drummer of the iconic band Boston.
"THE ROCK" BECOMES A FATHER FOR THE THIRD TIME
Dwayne "The Rock" Johnson become a father for the third time as he and his wife singer Lauren Hashian welcomed baby Tiana Gia Johnson on the 23rd of April 2018.
Tiana is The Rock's third daughter and Hashian's second. The couple also has a 3-year-old, Jasmine Lia.
Johnson revealed the promise he made to tiny Tiana: that he would be there to love, protect, guide and make her laugh for the rest of his life.
Johnson shares a sixteen-year-old daughter, Simone Alexandra, with ex-wife Dany Garcia to whom he was married from 1997 to 2007.
Simone is following ion her father's footsteps and training to become a wrestler - which will make her a fourth-generation wrestler.
Please fill in your e-mail so we can share with you our top stories!