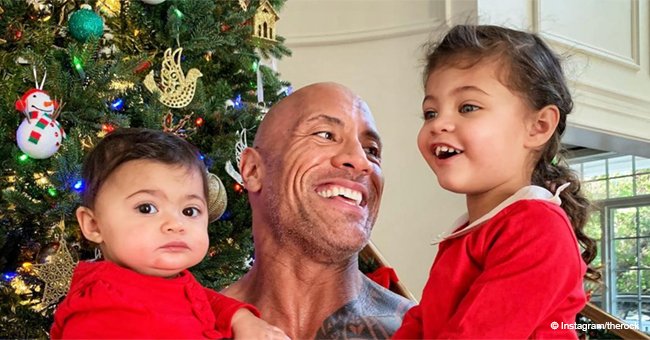 Dwayne Johnson warms hearts holding daughters in his arms on Christmas picture
Dwayne Johnson is basking in the holiday spirit by cuddling with his gorgeous daughters in their festive pajamas. The actor shared a beautiful pic to Instagram while reflecting about being enjoying his time with the girl while they're still like being held in his arms.
The Rock might be a tough man most of the time, but when it comes to his kids, he becomes an overprotective and soft dad that will do anything to make the girls laugh, including painting his face or nails before leaving for work.
The 46-year-old star recently took to Instagram to share a heart melting photo with two of his daughters, Jasmine, 3, and Tiana Gia, 8 months. In the shot, Dwayne is standing in front of their Christmas tree shirtless and holding one girl in each arm.
Tiana and Jasmine rocked matching red pajamas, and while the eldest laughed in delight, probably at something her father said, baby Tiana looks serious staring at the camera lens.
"Daddy's arms. I ain't gonna be able to hold 'em like this forever, so you better believe I snatch these cookies and love 'em up every moment I can," Johnson captioned the pic.
And continued:
"Plus, I know there's gonna come a day where in daddy's arms is the last place they want to be. Baby Tiana Gia is already there with the "help me" look on her face."
He finished up his post with a beautiful reflection, assuring that even though he can't guarantee he'll love and protect his girls for the rest of their lives, he will do for the rest of his.
Fans of the "Fast & Furious" star gushed about Dwayne's parenting skills in the comment section, admiring the actor's loving and protective nature with his daughters, including 17-year-old Simone, not pictured.
"@gzz_4life: Not only a hell of an actor... But also a great father... God bless ya, Mr. Jhonson."
"@ranbraden: Happy Holidays to you and your family Rock. Thank you for the motivation not just to survive, but thrive."
"@olli3__wrestling: Truly heartwarming to see as I scroll through all the hate posts to finally see something meaningful to a lot of people respect to the man and the #legend Dwayne " the rock" Johnson."
MAKING CHILDREN'S WISH COME TRUE
Dwayne is a goner for his daughters, and even if he has a busy schedule, he will always make time to share some memorable moments with them.
However, the actor recently made some time while filming for "Hobbs & Shaw," the first "Fast & Furious" spin-off, to create beautiful memories for three other kids: PJ, Cameron, and Lucy, from three different organization that help terminally ill kids make their dreams come true.
The trio wish was to meet their hero, Dwayne, and he made sure to give them special treatment on the set of the movie, by spending time with them, giving them many gifts and even asking for the entire filming crew to applaud for them as they are real-life heroes.
Johnson keeps proving that his heart is as big as his muscles, and his daughters are in perfect hands.
Please fill in your e-mail so we can share with you our top stories!