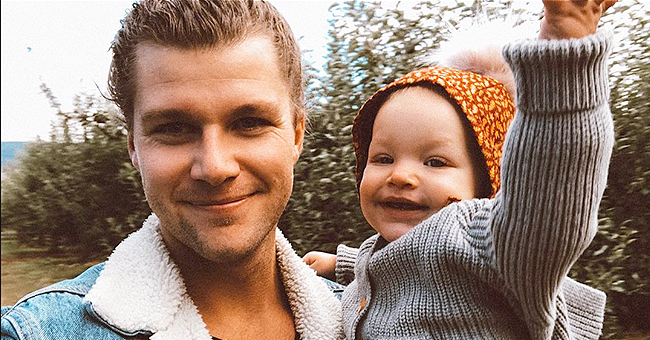 instagram.com/jeremyroloff
Jeremy Roloff & Daughter Enjoy 'Dad and Ember Project Day' on the Farm (Photos)

Jeremy shared a cute picture on his Instagram account where we can see him with his little daughter Ember, both wearing work clothes and a radiant smile.
With a gallery of photographs showing images of the farm, of the little Ember with a cloth doll, another image shows Ember in the golf cart. And the last one shows father and daughter standing on the road.
Certainly, Jeremy had a special time with his daughter plus showing her how is like to work on the farm. Although he is not sure that the girl can remember the things they did, what really matters is that the experiences they lived this day remained in their hearts.
Audrey, Jeremy's wife, recently announced that they are expecting a new baby as does Tori, Zach's wife, who is also expecting her second child. And to continue with the announcements, last week Jeremy made a very special one.
JEREMY LAUNCHES A NEW PROJECT
Being a photography enthusiast, Jeremy has always shared beautiful shots of his life. To continue exploring this interest, he has decided to launch a new project that involves his passion for photos.
So he has explained in his Instagram account that he now has HISTORY, his own preset collection to edit images. The presets are compatible with Adobe Lightroom, a software used to edit, organize, print, and share photos.
In the launch publication of this project, Jeremy shared the details to access it as well as a launch offer that benefits buyers with a discount on the initial price of 20%.
He also made a small sample with six before-and-after images so that the effects can be appreciated and potential buyers can make a better decision with the most information.
After the launch of this project, Jeremy has received encouraging comments and support for this initiative including from Jeremy's mom, Amy, and of course, his wife Audrey also wrote a sweet comment to encourage him.
Remember that a few months ago they also launched their book 'A Love Letter Life' which has been heavily promoted in social media and podcast. It offers comments to help couples give their best of themselves in their marriage relationships.
With many plans and projects in hand, the Roloff family is still the center of attention, although Jeremy and Audrey don't remain in the show, they will be telling their fans about the progress of each of these projects for sure.
Please fill in your e-mail so we can share with you our top stories!