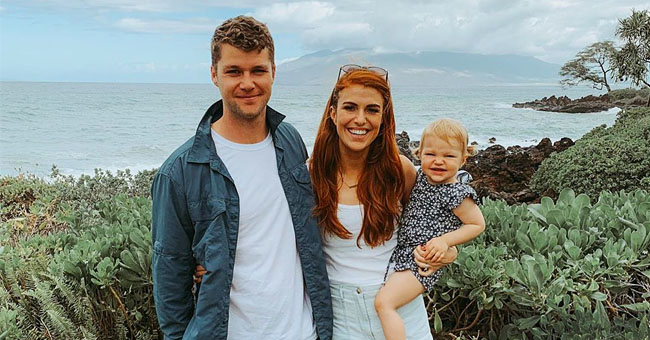 instagram.com/audreyroloff
Jeremy & Audrey Roloff Get Slammed for Their Controversial New Parenting Method

The Roloff family always draws attention whether they want it or not. That's why they are so popular; we can't forget that even though Matt and Amy are divorced, after thirty years of marriage and four children, fans love to know what they are doing.
So when their son Jeremy or his wife Audrey share something on Instagram, it immediately generates a wave of comments. Like the time when Audrey was totally overwhelmed by her problems with breastfeeding and called the formula a "sin."
The reactions of the fans are not expected either and in the case mentioned one of the followers made the following comment to Audrey: "Oh Audrey, the formula is not a sin. Fed baby is all that matters." Another said: "I officially can not stand Audrey !! ... Get over yourself!"
The couple has become very popular although they are no longer in the series, they share their advice on relationships, marriage, love and parenting tricks.
Their autobiographical book "A Love Letter Life" shares a lot of this, that's why they have many fans who follow them and love their bits of advice.
On another occasion, she commented on social media that the difficulties and problems she was having with her breastfeeding were 'stealing' her time from sharing with her daughter. And fans didn't wait to leave their comments.
One told Audrey that she had idealized concepts of motherhood and that it makes her unique to each mother. Another told her that she hoped that this time would make her grow up and mature as a mother because that is what was happening, that she is not a victim, she is simply a mother.
On one occasion, Audrey shared a video about a parenting technique called the blanket method that gained a lot of negative comments. Audrey then posted an Instagram video where she shared her success with the method and how easy it was to implement it with Ember.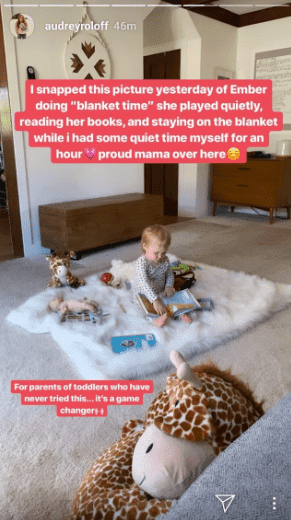 Screenshot from instagram stories l Source: Instagram/audreyroloff
"We would basically just say, 'stay on the blanket,' and if she crawled off the blanket we would just put her back on the blanket and only did it for, you know, a few minutes at a time when she was younger," explains Audrey in the video.
Jeremy then interjected the video and added the reason they're partaking in this practice is to teach Ember "boundaries and self-control zones, how to self-entertain, how to be disciplined, how to obey mom and dad."
Fans wrote their comments about this practice blasting the couple because they say that Ember is just too little, and sitting on a blanket for 45 minutes must be terrible for the baby.
Please fill in your e-mail so we can share with you our top stories!