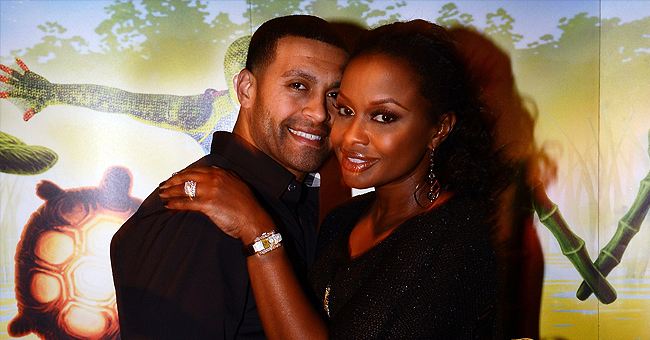 Getty Images
RHOA Alum Phaedra Parks Comments on Apollo Nida's Arrest Days after Parole Release
Phaedra Parks reveals her disappointment over learning her ex-husband, Apollo Parks was thrown back in prison just nine days after his release. "He has to want to change," she says in frustration.
In an exclusive interview following her ex-husband, Apollo Nida's re-entry to prison, Phaedra Parks dishes on the sad reality of raising their boys alone and the disappointment of telling their sons their father wouldn't be around on Father's Day.
A HOMECOMING GONE WRONG
When news broke that Apollo Nida had been released from prison earlier than expected, his ex-wife, Phaedra Parks was pleasantly surprised because finally, their two sons could resume their relationship with their father.
Nida had served five years of an eight-year sentence for fraud and identity theft and when he was set free in June, his sons looked forward to having him around on Father's Day.
However, just nine days after he was released and two days shy of the occasion, Nida was rearrested and sent back to prison. He reportedly violated the provisions of his parole leaving Parks and their sons disappointed once again.
"I can't make him be what he doesn't want to be. He has to want to change."
"ONLY JESUS CAN FIX IT"
Parks opened up to The Daily Mail TV about the aftermath of learning Nida was back in prison. Fully aware of his precarious ways, she said the idea of him violating his parole didn't come as a shock to her.
'I was disappointed, but at the same time, I don't know if I was that shocked because he is a risk taker," she said, "and I just hate it because now it's just above all of us, only Jesus can fix it."
Parks has resigned to the fact that she has no control over the situation or Nida's behavior.
"I can't make him be what he doesn't want to be. He has to want to change," says the former "Real Housewives of Atlanta" star.
"Being a parent does not come with the manual...when you have a parent that is absent, like my ex-husband, it makes it very difficult because I am the sole provider."
NO FATHER ON FATHER'S DAY
While she's been accustomed to not having Nida around to help her in parenting their boys, Parks is more concerned about giving them false hopes following Nida's re-entry in prison. She revealed their boys prepared a package for him for Father's Day and even thought they'd be able to spend time with him.
"There's a box of Father's Day cards, mugs, little plates and things that they've made that I was going to send him," she shared and also disclosed that their youngest son asked if his daddy would be with them for the occasion. Parks had to tell him no, which was the truth even if Nida didn't return to prison.
Upon his release, he was made to live in a halfway house where he was supposed to serve the remainder of his sentence which ends in October. Now that he's back behind bars, he will complete it there. Unfortunately, his sons won't be able to communicate with him until then.
ON BEING A SINGLE PARENT
Meanwhile, Parks hopes for the sake of her boys that Nida will finally straighten up. She admits it's difficult raising boys on her own.
"Being a parent does not come with the manual. So I don't think that there's any perfect parents, but obviously when you have a parent that is absent, like my ex-husband, it makes it very difficult because I am the sole provider."
Parks adds that there are things only a man can teach his sons.
"You know, a woman cannot really teach a young man how to be a man," she says. "And so that's been a source of frustration for me, but I make sure that I keep them surrounded with my dad, my two brothers, great coaches."
PARKS AND NIDA'S PAST AND PRESENT
Parks and Nida were married for five years before they separated in 2014. She revealed in her interview that she decided to leave him after learning he had lied to her about his crimes after she supported him.
"I was done. From the moment I discovered that he had done all this stuff, I was finished with that relationship."
The pair were divorced in 2017, three years after Nida began his prison sentence and shortly before he announced his engagement to Sherien Almufti. Nida met up with his fiancé right after he was released from prison in June. They were planning to wed soon but with him back behind bars, it may be a while again before they can make definite plans for their future.
Meanwhile, Parks has definitely moved on from Nida to a much younger guy. She's now dating "The Haves and Have Nots" actor, Medina Islam. The 45-year-old confessed she's "excited" about her new romance describing Islam as "tall, dark, and handsome" and "the type of guy I want to take home to my mother." She's glad that she finally met someone she can be proud of and who would bring good to her life.
Please fill in your e-mail so we can share with you our top stories!