Amy Roloff Admits the LPBW Scene Where Boyfriend Chris Marek Leaves Her in a Restaurant Was Edited
"Little People Big World's" star, Amy Roloff has come out to explain that TLC's editing of a scene with her and her beau was overdramatic.
Amy seems to be having the time of her life with her boyfriend, Chris Marek, and she stops at nothing to document her fun and quality time spent with her lover on social media.
Recently, the LPBW star updated her Instagram after enjoying time out with Chris and a few of their friends. Her post signified how much she loves the moments shared with her man, and how much of the memory she would love to keep. It read:
"Woohoo, I was so excited and over the moon to go on a motorcycle ride w/Chris and friends again over the 4th of July weekend. We went on the same route, Chris, and I did on our first ride together. What? Can it be three years already? Still just as amazing...memorable ride once again.#amyroloffsecondact #travelwithamyandchris"
The Season 18 of the show featured scenes of Amy and her man. A particular scene showed that Chris was upset with Amy and walked out on her, leaving her perplexed in a restaurant. 
It generated reactions from a fan who asked if that was the case. The mother of four had to clear the air, and she told InTouch Weekly that it was terrible editing from TLC's production.
This is not the first time a complaint concerning the production of the TV's station will arise. Last year, Matt, Amy's former husband, stated that TLC centered more on the negativity in their family.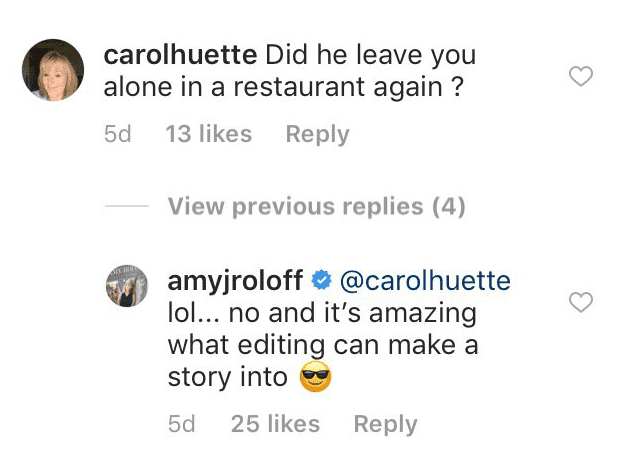 Her son Jacob, from her first and only marriage who left the show, also complained about the show's effect on his family and how the production strategy made his family "characters."
Although Amy corroborated that Chris left her in the restaurant after an argument and that she was equally pissed, the LPBW star did not dish out further information regarding the dinner date. She was quick to talk about her relationship dynamics with her lover.
In the explanation she gave, it was deduced that both partners live apart, but likes to spend time with each other often, especially when they don't have anything to do. This new found love must be everything for Amy as she expressed that she was hurt during the end of her 27-year-old marriage with Matt. 
The author of "Little Me" explained how "devastated" she was upon realizing her husband's romantic involvement with a worker, Caryn Chandler, on the family's farm in Hillsboro, Oregon.
Whether or not Chris and his woman were involved in an argument, the two seem considerably fine as Amy expressed that she "was definitely enjoying the trip!"