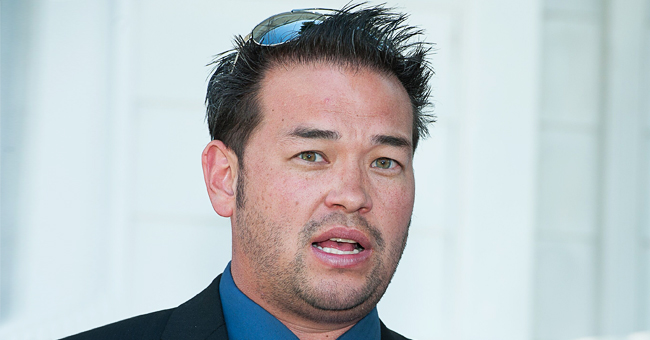 Getty images
Jon Gosselin Calls Fans 'Rude' for Taking Photos of Him While He Was out for Dinner

The 42-year-old father of eight, Jon Gosselin has come out to label his fans "rude" for disturbing his peace during a meal.
He is famous for his feature on TLC's "Jon & Kate Plus," which premiered in 2007, and focused on the family of 10.
It starred all eight kids, twins, Cara and Madelyn, then the sextuplets, Hannah, Collin, Aaedn, Alexis, Leah, and Joel along with their parents, featuring a series of events that shape their lives. The program brought Jon to the big screen, making him the famous dad of sextuplets and a set of twins.
Recently, the TLC star expressed his utmost disgust at the actions of fans who would not give him the chance to enjoy the luxury of his privacy with his family.
As Gosselin headed out to eat in a restaurant with two of his kids, he probably had it in mind to spend some quality time with the children but was disturbed by some fans who couldn't help but notice him and thought to click their shutters.
This love was not reciprocated by the "Jon & Kate Plus" star as he took their pictures and posted it on his Instagram handle with a caption revealing that he was quite aware of what they were doing as he and his family ate.
According to the post, it read:
"Rude, you know what taking pics of us at dinner, I see you, I'm not dumb, I see you!!!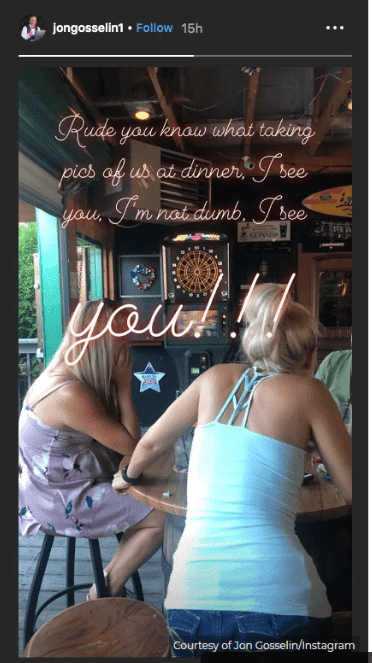 Instagram/@jongosselin
While Jon and Kate are parents to sextuplets and two twins, their union hit rock bottom in 2009, after enjoying matrimony for a decade.
The 42-year-old has decided to live as a disc jokey, and behind the cameras, with his 15-year-old twins, Hannah and Collin Gosselin, who agreed to be in their father's custody, along with his beau, who is a nurse, Colleen Conrad.
His ex-wife Kate still stars on TV, on "Kate Plus Date," as she intends to maintain her spotlight on screen. On the contrary, her ex-husband has no intention of being on screen; instead, he desires a quiet life. His interview with Style Caster revealed that he doesn't even know why he's famous!
He explains that he is not a singer, or dancer, or an award-winning writer, but just a dad of eight children who starred on TLC's production. Although he doesn't regret starring on the show himself, he certainly has a few things he would have loved to change if given another chance.
CNN reported that him not being represented by an attorney correctly when he signed the contracts of the show, is one of them.
While he revealed to Entertainment Tonight that how he handled his involvement with other women was unfortunate, as he was under the constant watch of the media, consequently causing his split with Kate to be explosive.
Both parents do almost everything differently, they even ensure to spend quality time with their kids in a different manner. On the 4th of July, Jon posted a shot on Instagram, of his long-time girlfriend, himself, and twins outdoor as they all looked happy celebrating the country's independence.
Kate's independence was with a pair of her sextuplets Alexis and Aaden, as they enjoyed some pool time. The mother of eight is doing her best to live her happiest, with the support of her children. Her show "Kate Plus Date," signifies that she is on a quest to find her Prince Charmer.
While it may seem that Kate is going to be on TV for a while, her ex Jon has chosen the opposite. Hopefully, his action deters "rude" fans from invading his privacy!
Please fill in your e-mail so we can share with you our top stories!