La La Anthony Spotted Having Dinner with Husband Carmelo Amid Divorce Rumors
La La Anthony was spotted out at a romantic dinner with estranged husband Carmelo. Is a reconciliation in the cards?
Fans of La La Anthony are confused. Is she divorcing Carmelo or not?
The actress was said to be filing divorce papers after the basketball player was caught philandering on a yacht with a model, but now she's been spotted having dinner with Carmelo in a romantic setting...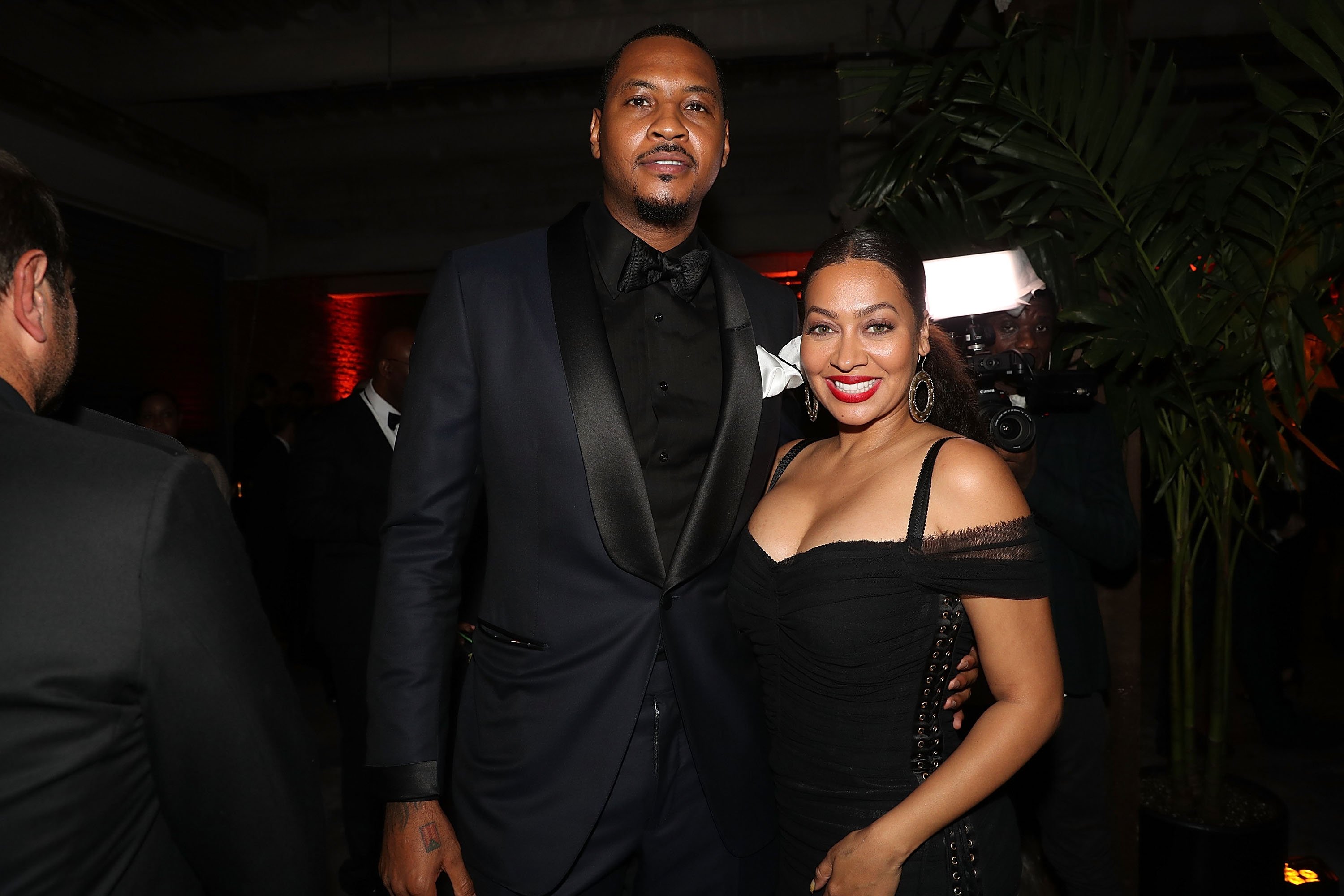 CARMELO SPOTTED PLAYING THE GENTLEMAN
Carmelo seems to be doing all he can to win back his estranged wife and he was seen chivalrously opening the car door for her.
The couple was exiting the prestigious Matsuhisa restaurant in Beverly Hills, where they presumably had a tete-a-tete over gourmet delights.
Two years ago the couple separated after Carmelo allegedly fathered a child on another woman.
CAUGHT IN THE ACT
The unexpected date comes nearly a month after Carmelo was photographed on a yacht in Europe, sunbathing next to a skimpily clad mystery woman who was later identified as Swedish Moroccan model Sara Smiri. 
A "SURPRISE" ON LA LA ANTHONY'S BIRTHDAY
The story broke on La La's birthday, June 25, and it surely couldn't have been the birthday present she was expecting form her apparently loving husband who posted a message for her on that same day.
"Some of the most beautiful things worth having in your life come wrapped in a crown. Your heart is full of love and affection. Your hands are always caring. I am lucky to have you as my wife. HAPPY BORN DAY QUEEN I LOVE YOU @lala #STAYME7O" he wrote.
LA LA AND CARMELO LIVE APART, SPOKESPERSON SAID
Shortly after the scandal broke, La La's spokesperson released a statement:
"As La La and Carmelo have been living apart for quite some time, La La is proceeding with legal discussions as the next step in their relationship."
This is not the first time that Carmelo has stepped over the line. Two years ago the couple separated after Carmelo allegedly fathered a child on another woman.
Will La La, who shares son Kiyan, 12, with the NBA All-Star forgive him for his infidelities yet again?
CARMELO ANTHONY DENIES INFIDELITY
When photos of Carmelo Anthony on a yacht with a scantily clad lovely hit the media, La La Anthony announced that she was filing for a divorce.
Carmelo immediately claimed his innocence and said that the woman was the wife of a friend with whom he was vacationing.
"I'm on a boat with some friends. Them people are married; they don't got nothing to do with anything. Can't let this one slide because this [expletive] ain't cool no more. Peace," Carmelo said.
It turned out that the woman is in fact a Swedish Moroccan model, Sara Smiri, whom he met in Paris during Fashion Week, and is quite single. 
Oh, the lies men tell...