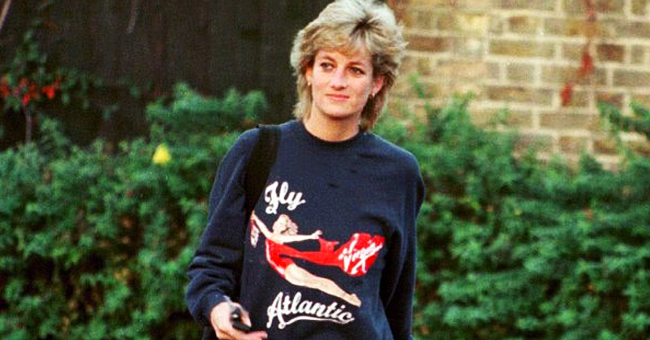 twitter.com/HelloCanada
Princess Diana's Iconic Virgin Active Gym Sweatshirt Was Sold for Over $50K for a Charitable Cause
The late Royal was a rule-breaker who had a complicated relationship with the media, and she found a creative way to challenge paparazzi photography with a piece of clothing that was recently auctioned.
South African-born Jenni Rivett was Princess Diana's personal trainer for the last seven years (1990-97) of the late Royal, who granted Rivett with a very special souvenir as a token of her appreciation.
We are talking about the Virgin Active gym sweatshirt Diana famously wore three times a week during those years as she went to train, an item that Rivett treasured for more than 20 years.
"She always wore the same sweatshirt when we met to work out," the late royal's personal trainer, Rivett told the New York Post.
"She was tired of the media speculating about her clothes when there were more important things happening in the world," she added.
The starting price for the auction of the garment was $5.000 but it ended up being sold for $53,532.50 by a California resident who chose to stay anonymous.
A GOOD CAUSE
The dark blue pullover with the Virgin Atlantic's classic Varga Girl advertising logo holds a sentimental and historical meaning to Rivett, but she ultimately decided that its monetary value could serve an honorable cause.
Rivett offered the iconic sweatshirt for sale through Boston based RR Auction house, with the idea of using the money collected to help sponsor a little girl in Malawi so she can go to school.
The fitness professional believes that this is something on which Diana would fully agree, and by doing it, she is also paying tribute to the "People's Princess" and the causes dear to her.
"The princess would definitely approve if she were still alive. Causes in Africa were always very close to her heart," Rivett shared.
HER WAY TO DEAL WITH THE PRESS
The personal trainer also recalled how intimidating and invasive the constant presence of the press was, and how Diana came up with this idea to fool them somehow.
"Her exact words to me were: 'There are more important things in the world than me going to the gym and I've got a trick up my sleeve! I'm going to wear the same sweatshirt to every session,'" Rivett continued.
The starting price for the auction of the garment was $5,000 but it ended up being sold for $53,532.50 by a California resident who chose to stay anonymous.
Following the sale, Virgin Atlantic's owner, billionaire Richard Branson, took to Twitter to congratulate the "lucky winner."
"Well done to the lucky winner of the auction for Princess Diana's @VirginAtlantic jumper. I hope the sweatshirt brings you as much joy as her friendship did for me," Branson wrote on July 13.
DIANA'S ORIGINAL IDEA
The public's fascination with all things related to Diana ultimately lead to her tragic death under the harassment of the press, but before and after her passing she found ways to make good use of her influence.
Diana's dresses and other possessions have raised millions of dollars for charities for AIDS and cancer research, something that started on her own initiative with her famous 1979 Christie's auction.
Please fill in your e-mail so we can share with you our top stories!