Eric Garner: Cop Involved in His Death Will Not Be Charged

5 years after his death, the US Department of Justice has decided not to bring federal charges against the police officer who choked Eric Garner.
Justice and the law seem to be at odds yet again, as the US Department of Justice announces one day before the statute of limitations was due to expire that it will not bring federal charges against a New York City police officer for the death of Eric Garner.
This is yet another bitter blow to those who have watched with sorrow the indifference of the justice system to the brutal treatment of African Americans at the hands of the forces that should protect them as citizens of this country.
"The evidence here does not support Officer Daniel Pantaleo or any other officer with a federal civil rights violation." US Attorney Richard Donoghue.
ERIC GARNER'S SENSELESS DEATH
43-year-old Garner was detained on the streets of New York by police for allegedly selling loose cigarettes.
Footage of the arrest showed Officer Daniel Pantaleo placing Garner in a chokehold - which the department had banned more than two decades before.
Mayor de Blasio said in a statement that the justice department had failed the city.
POLICE WATCH INDIFFERENT AT ERIC GARNER SUFFOCATES
When Pantaleo released his hold, the asthmatic Garner fell to the ground gasping out "I can't breathe!" 11 times in the presence of several police officers who watched, indifferent to his plight.
GRAND JURY REFUSES TO INDICT
The evidence was brought before a grand jury, who watched the video of the incident countless times and refused to indict Pantaleo citing that there was no proof the officer had willfully cause Garner's death.
ERIC GARNER'S FAMILY CALLS FOR OFFICER'S DISMISSAL
Five years after Garner's death, Officer Pantaleo is still on the job, but the family has appealed to New York City Mayor Bill de Blasio for his dismissal from the NYPD.
Pantaleo has been suspended with pay, but a decision to fire him from the department has not been announced.
The grieving family of Eric Garner has not given up their battle for justice, and are counting with the support of the Black Lives Matter Organization.
"Five years ago, Eric Garner was choked to death. Today the federal government choked Lady Justice, and that is why we are outraged," said civil rights leader Reverend Al Sharpton.
Mayor de Blasio said in a statement that the justice department had failed the city. The final decision not to bring charges against Officer Pantaleo was made by Attorney General William Barr.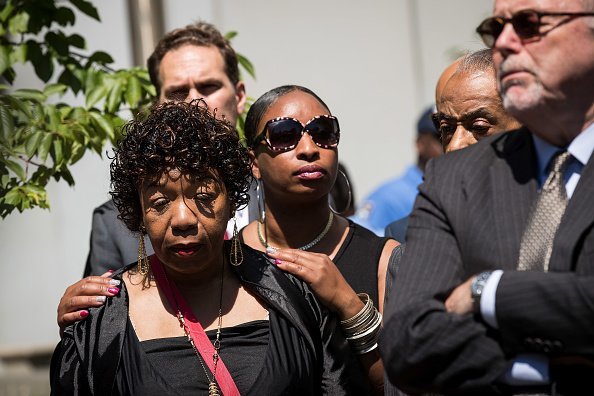 Gwen Carr, mother of Eric Garner | Photo: Getty Images
THE DEATH OF ERIC GARNER
Every horrific detail of Eric Garner's death was captured for posterity by a bystander, for all the world to see, and yet a grand jury allowed the man responsible to go free.
In the video, 43-year-old Garner can be seen being apprehended by police officers for selling loose cigarettes and being placed in a chokehold by Officer Daniel Pantaleo.
Garner started choking, and gasping that he couldn't breathe. Pantaleo dragged the asthmatic Garner and slammed his head on the sidewalk.
Garner gasped out "I can't breathe" eleven times but his pleas for succor went unheeded.
If we can't depend on justice, how can we depend on the law, when even mercy itself is dead?
Please fill in your e-mail so we can share with you our top stories!