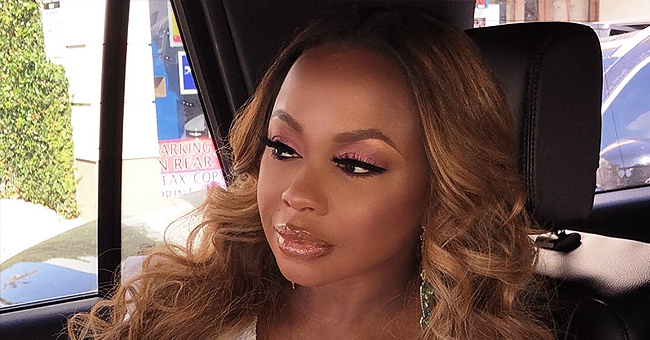 Instagram/phaedraparks
Phaedra Parks Reportedly Denies Dating an African Prince on 'Rhoa'
Phaedra Parks is claiming that the "Real Housewives of Atlanta" storyline of her dating an African prince was false and entirely made up by the show's producers.
Parks was on the hit Bravo series for eight years during which she welcomed two sons, and her ex-husband went to prison, but according to her, not everything fans saw on the reality show was real.
THE TRUTH ABOUT THE 'PRINCE'
Parks recently sat for an interview with Daily Mail TV and spilled the beans about her time as a peach holder.
"I was just a character that they're manipulating for their own benefit," she said of RHOA producers, recalling the time they ran a storyline about her dating an African man:
"They completely made up one story that I was dating an African prince the day Apollo went to prison. I was seeing some African man named Mr. Chocolate while I was breastfeeding my baby, going to mortuary school, my husband's going to prison and I've got a two-year-old."
HAZARDS OF REALITY TV
"It was the most ludicrous, crazy thing in the world. I was never unfaithful in my marriage at all," Parks continued. "But of course the show ran with it because it made for good TV."
The trained lawyer and mortician claimed that the producers on RHOA were "continually making up stuff" to make the show more interesting.
"That's the essence of reality TV; they make things up to make storylines juicy," she added. "It is what it is. Reality shows are not real. They're for entertainment at everyone else's expense, except the people that make it, so you can't regret anything."
'NEVER SAY NEVER'
Despite her admission, Parks is not ruling out a return to RHOA in the future. She did, however, confirm that there are no current plans for that as she's set to make an appearance in another "popular" TV show.
"I know there's lots of rumors swirling around about me returning to the housewives, but I haven't had any discussions about returning. I never say never to any opportunities, but I had a good run and you know, I'm very happy right now."
RETURN RUMORS MAKE A COMEBACK
Parks exited RHOA after an explosive season 9 finale and reunion saw her admit to spreading damaging rumors about fellow housewife Kandi Burruss. Rumors of Parks returning to the series have, however, been swirling for some time now.
When Parks was the only former housewife to attend Bravo boss Andy Cohen's baby shower in January, fans speculated that she would be returning to RHOA, especially because show OG NeNe Leakes seemed to be on board with it.
AN EX LEAVES JAIL
The speculations went into high gear again last month after Parks' ex-husband Apollo Nida was released from prison and booked into a halfway house. Nida, who is the father of Parks' sons – Dylan, 6 and Ayden, 9 – was sentenced to prison after confessing to wire fraud in 2014.
Since his release, Nida has been spotted with fiancée Sherien Almufti, causing fans to speculate that the situation will make for some dramatic TV. According to Parks, however, that's not happening anytime soon.
The mother-of-two has also moved on in the relationship department. After briefly dating radio personality Tone Kapone, Parks has now reportedly moved on to "The Haves and the Have Nots" actor Medina Islam.
Please fill in your e-mail so we can share with you our top stories!