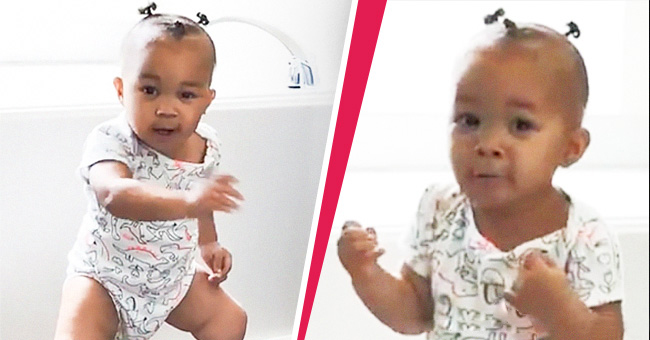 http://Instagram.com/Carlos Lewis Jr
Little Girl Shows Father Who Is Boss in Video of Their Adorable 'Argument'
Boss baby! A 1-year-old toddler in Houston showed her father, who is boss as they argued in an adorable video that has gotten a lot of attention.
A new boss baby is going viral on the internet, and she's 1-year-old Alaya, who lives in Houston with her father, Carlos Lewis Jr. Carlos shared a video on Instagram of little Alaya having a faux heated argument with him while they were in the bathroom together.
In the video, the Houston resident was not visible, but his voice is heard in the background asking his daughter who she is talking to as she screams at him in baby babble.
The toddler flared her hands as she stomped around, with her father asking if she's getting angry, and feigning mock anger that Alaya is giving him attitude.
After flaring at him one more time, and walking over to the bathtub, Carlos realised that the argument was one he was not going to win, and asked his daughter to chill out and stop yelling at him.
In the accompanying caption, the father-of-one noted that although his 1-year-old is still a baby, she is already giving him a tough time, joking at the end,
"Who does she think she is?"
Carlos's followers had several answers to his question and compliments for little Alaya. One follower wrote that the little girl is quite capable of communicating her feelings despite not being able to talk yet, while another, predicted that the toddler would rule the world one day, adding,
"She's telling it as it is, lol."
Another wrote, "so adorable and funny," while others said the little girl is brilliant, she knew what Carlos was saying and responded accordingly.
The video went viral and has gotten thousands of views, likes, and shares. It equally got the attention of the Houston news outlet, ABC13 Eyewitness News.
In a statement to ABC13, Carlos said that he was surprised by the reaction his post has gotten, calling it, "Unbelievable." The happy father thanked his followers and everyone who has watched the video, liked, or shared it, for making his little girl famous.
He said he never thought in a million years it would get so much love and he is ecstatic. Alaya's grandfather, Trevon, also shared the video and the coverage by ABC13, writing,
"My son made the news by being a great dad," and he couldn't have said it better.
Please fill in your e-mail so we can share with you our top stories!