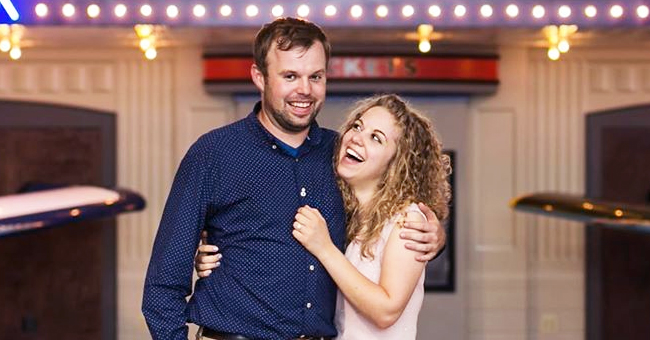 instagram.com/johnandabbie
John David and Abbie Duggar Shared Candid Photos Celebrating Their 1-Year Engagement Anniversary
In April, Abbie Duggar and her husband celebrated their five months of marriage. On Tuesday, the pair celebrated another milestone – the anniversary of their engagement.
Counting On stars John David and Abbie (Burnett) Duggar took to Instagram to honor a milestone that they'd reached in their relationship. Tuesday was their one year engagement anniversary!
The couple took to Instagram with a number of photos to celebrate the memory. The images showed John proposing to Abbie in a hanger.
The post was captioned: "1 year ago today, we got engaged!!! Living in love together only gets sweeter with each passing day! …" The pair met each other through a mutual mission's project.
After courting for a short while, the pair got engaged last year July 16. Their engagement happened in a hanger with vintage planes and an awning that read: "Abbie, will you marry me?"
The reality star proposed while kneeling on a heart made of rose petals. At the time, John explained the setting saying: "You know life's been wonderful since about, what, May 6. We started flying. That was the first thing we really did together."
He then proposed by asking her if she "wanted to keep flying" with him and her response was that she would "love to keep flying" with Abbie. The pair didn't waste any time getting hitched a couple of months later.
They wed on November 2018, in an elaborate ceremony in John's hometown of Ada, Oklahoma. For months, the couple's joint Instagram account was silent building speculation that they were pregnant.
However, so far, the pair hasn't mentioned any pregnancy news. The couple also never explained their two-month hiatus from the social media network.
In celebration of their five months of marriage, John and Abbie took to Instagram to share new photos of their wedding day. They captioned the post: "Celebrating our 5-month anniversary today! Marriage is such a gift from God and we are so thankful for each day we get to spend together!"
Fellow Duggar family members and John's brother, Josiah and wife Lauren, took to the comments section to congratulate the two. From Josiah and Lauren's shared account they wrote: "Aww! Y'all are adorable! Can't believe it's already been 5 months!"
Counting On returns to TLC this fall.
Please fill in your e-mail so we can share with you our top stories!