Dylan Dreyer's Friends and 'Today' Fans React to Her News about Baby #2
Today Show co-anchor Dylan Dreyer announced that she was pregnant with her second child. Her fans and friends have since shared their congratulations to the presenter.
Dylan Dreyer, 37, revealed the news of her pregnancy via the 3rd hour of the Today Show on Wednesday. Taking to social media, her friends, co-workers, and fans responded by sending her well wishes. 
FANS SUSPECTED DREYER WAS PREGNANT
Some people even shared that they'd suspected a number of weeks ago. On Facebook, a fan named Jzanyt Darby Burney wrote: "I knew it!! I kept asking "Are Dylan's clothes becoming a bit more loose? There's something about her. Humm …" So so happy for you and your family!! Congratulations!!..."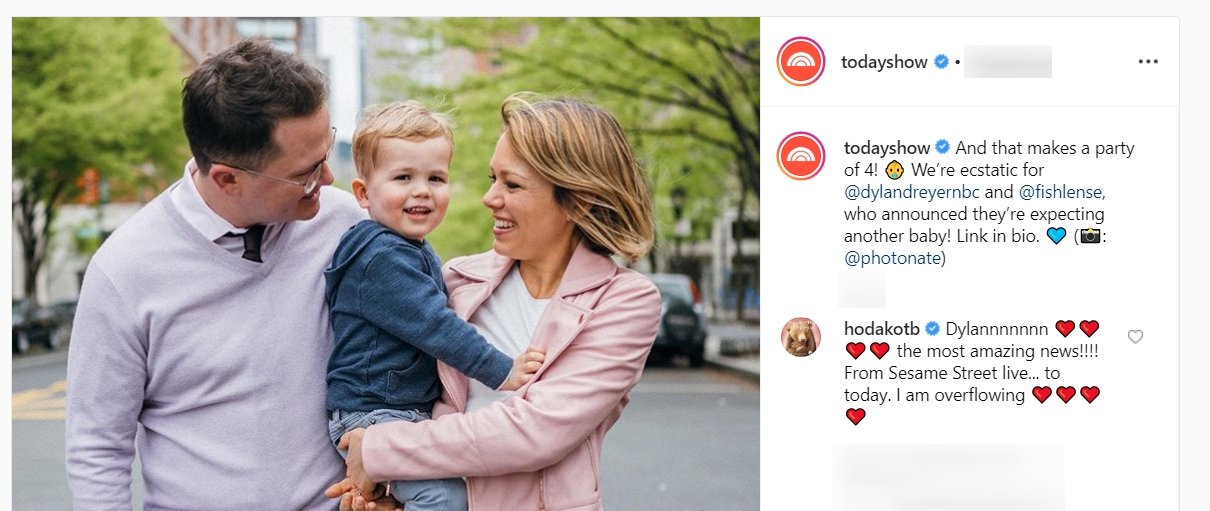 Jill Spannagel Whitney added:
"Congratulations Dylan! I was wondering last week and I said to myself .. I think she's pregnant! Us moms know .... Prayers are such a powerful thing ! …"
Jenna Carter noted: 
"I wondered a few weeks ago when she was wearing a dress and I thought she had a small bump! So excited for her!!! Congratulations!"

Dreyer's co-host Jenna Bush Hager shared that her mother, former First Lady Laura Bush, had her suspicions that the presenter was expecting. After the announcement, Bush Hager said: "My mom texted me last week. She was like, 'Is Dylan pregnant?' and I'm like, 'Mom!'"
CO-HOSTS CONGRATULATE HER
Taking to Twitter, the co-host congratulated Dreyer saying the pregnancy announcement was "The best news!!" As a mother herself, she also revealed that she would be "Passing on the maternity clothes now."

Co-anchor Hoda Kotb took to Instagram with a comment sharing that Dreyer's news was "the most amazing news!!!!" The pregnant co-host also revealed that her second child would be a boy.
DREYER STRUGGLED TO CONCEIVE
Her first son Calvin, 2, would finally become a big brother after his parents struggled to conceive. In April, Dreyer opened up about her struggles with secondary infertility with her husband Brian Fichera.
"Even Steven is the best policy when you have two kids."

The @TODAYshow family offers some of their best advice for @Dylandreyernbc who's expecting her second child! pic.twitter.com/68UymneDFE

— 3rd Hour of TODAY (@3rdHourTODAY) July 17, 2019
The couple had been trying to get pregnant for some time and during the past winter, Dreyer suffered a miscarriage. The happy couple's second child is expected in January.
WORDS OF WISDOM FOR BEING A PARENT TO TWO KIDS
Dreyer's co-anchor Carson Daly had some words of advice for her about having a second child. He shared that he and his wife had to "ease" things for their firstborn Jackson when Etta, their second child, came.
.@dylandreyernbc and her husband, Brian, are having a... boy! 💙💙 pic.twitter.com/qRAFqaJpar

— TODAY (@TODAYshow) July 17, 2019
Daly revealed that every now and then, they would give Jackson gifts from their second child before she was born. That way, by the time Etta was born their son thought his mother was "giving birth to Santa Claus."