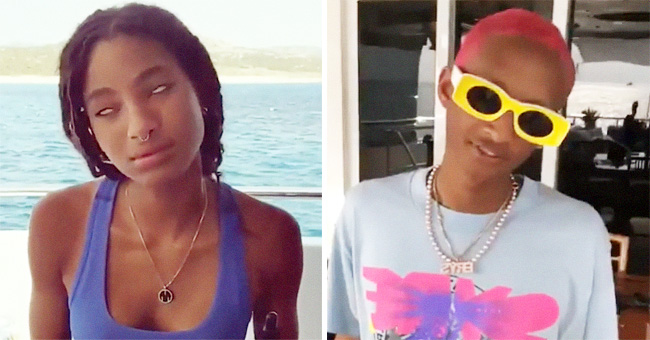 Dorky Dad Will Smith Asks His Kids to 'Do Something That Trends' While on Vacation

Will Smith tried to force his children to "perform" for a hilarious family vacation video.
Will Smith is riding high and having the best summer ever, and it shows.
The "Aladdin" star posted a hilarious video taken on his summer vacation on a yacht in Greece that gives us a glimpse into the life of the ever-popular actor.
WILL SMITH'S DORKY HUMOR BRIGHTENS UP THE SUMMER
In the video clip, Jaden Smith, 21, and Willow Smith, 18, can be seen relaxing on the covered deck of the yacht.
Willow is reading a book, while Jaden is just chilling, soaking up the sun when dad turns on his camera.
'All right guys, look, we're on vacation, all right? And you guys look really comfortable, OK? But, we've gotta do something that trends, all right?" he says.
"Aladdin" is turning into what is expected to be the highest-grossing movie in Disney's history
DO SOMETHING THAT TRENDS
Will demanded that his family - all entertainers - work on their vacation by "doing something that trends," to which a beleaguered Jaden responds:
"We came on vacation so we didn't have to do something that trends!"
"No! No! No! who said that, did your mother say that?!" Will quips.
WILL SMITH: VACATION TASKMASTER
Will's main amusement on this vacation seems to be taking his family to task for doing nothing - which is the point of vacationing, right? But not according to Will
In another video, he reveals that his wife has spent the day getting her hair greased, that he has beat son Trey at chess, and that Jaden has "finally" arrived from LA in what he laughingly describes as his "Functional glasses."
WILL SMITH'S SUMMER TRIUMPH
Will can't be blamed for being in such a great mood. After being harshly criticized for "daring" to step into the deceased Robin William's shoes as the Genie in the live-action version of "Aladdin," Will is triumphing.
"Aladdin" is turning into what is expected to be the highest-grossing movie in Disney's history, passing the "Harry Potter" Movies On All-Time Earnings List - and the summer has just begun.
We wish the Smith family a great holiday and many future successes.
WILL SMITH'S ADORING SPEECH ON SON'S 21ST BIRTHDAY
Jaden Smith's 21st birthday gave his dad Will Smith the opportunity to deliver yet another one of his famously humorous speeches, but this time, the end was heartfelt and deeply moving.
But of course, being WIll SMoth, it had to start out with a joke.
"I'll tell you something my father told me on my 21st birthday. Never break two laws at one time. Because you increase your chances exponentially of getting caught for both. So only break one law at a time," Will said.
Will then when on to tell Jaden that he was everything any parent could hope for in a child and that he was proud of his achievements and his humanitarian work.
To round off the speech with his characteristic humor, Will told Jaden that since he is now an adult, he was taking him off his insurance and forwarding him his bills...
Happy Birthday, Jaden, and many happy returns.
Please fill in your e-mail so we can share with you our top stories!