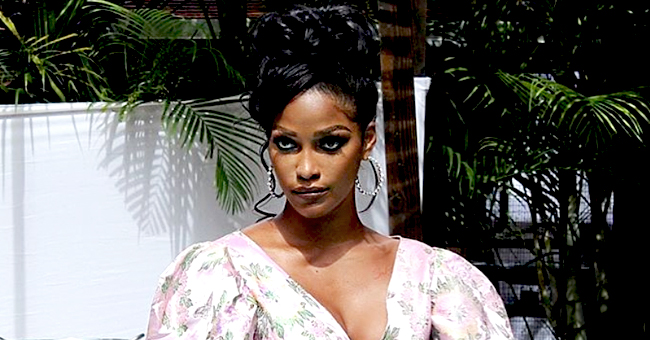 Instagram/joseline
Joseline Hernandez's Daughter Is the 'Cutest Little Girl Ever' in Pink Dress & Boots
Joseline Hernandez's daughter, Bonnie Bella, is the cutest girl in pink in a new pic shared by the reality star on Instagram. Hernandez took the chance to write a heartwarming message for the girl in her caption, all while she fights for Bonnie's custody with Stevie J.
Joseline Hernandez has received criticism for her revealing outfit choices throughout her entire career in the entertainment industry. So, in contrast, she makes sure to dress her daughter in a way her grandma would approve.
Some fans love it and praise her for it; some believe Bonnie's looks are antiquated.
However, no one can deny the 2-year-old looks adorable in her skirts and dresses, just like in one of Joseline's recent Instagram pics.
A CUTIE IN PINK
In the shot, Bonnie Bella is donning a long pink dress with a white collar and a printed logo on the front. She paired with black ankle boots, a beaded necklace, and a headband with bunny ears and flowers.
Joseline also recorded a video of her girl standing on a pier and looking down to a green toy in her hands. Then, she looked up to the camera and moved the toy behind her back, defensively claiming "Mine!"
In the caption, Hernandez alluded to her daughter's words while writing a heartwarming love letter to the little girl that read:
"I remember before you were born, I had backlash from anyone that could talk..... Now, look at you! Now everyone wants a piece of you! No one was there for you or Mommy! But we made it! Tell them like I tell them. You all #Mines."
CUSTODY BATTLE
It seems like the self-titled Puerto Rican princess might be addressing her current legal battle with Bonnie's father, Stevie J.
Although the exes settled a custody agreement earlier last year—in which Joseline got primary custody, and Stevie was ordered to pay for child support—the "Love & Hip Hop" star is now accusing Joseline of violating the terms of that agreement.
According to Bossip, Stevie J claimed in court documents that Joseline moved to Miami to be with her boyfriend last year, and since then, she has denied Stevie the chance to see Bonnie, or even talk to her on the phone.
He also claims Joseline is excluding him from the decision making process of the girl's education, health, religion, and other extra-curricular activities.
The father of six is asking a judge to give him primary custody, claiming Joseline is mentally and financially unstable and he can raise their daughter in a more suitable environment now that he's married to Faith Evans.
JOSELINE FIRES BACK
However, Joseline is not giving up on her daughter that easily.
In court documents obtained by Bossip, the rapper denied Stevie's accusations, saying she has complied with the terms of their current agreement and adding that, if Stevie is so worried about Bella's financial situation, he could increase his child support payments.
Joseline called Stevie's efforts to obtain primary custody a "frivolous action to try to take the child from the only home the child has known."
Although Hernandez admitted that her income had gone down since she left "L&HH," she says Stevie's claim of giving Bonnie a better life because has more money is "an insult to every single mother in the country."
She's also asking the judge to make Stevie pay her 20 percent of his income since he thinks she can't provide for their daughter.
Both sides are reportedly set to appear in court next week.
Please fill in your e-mail so we can share with you our top stories!