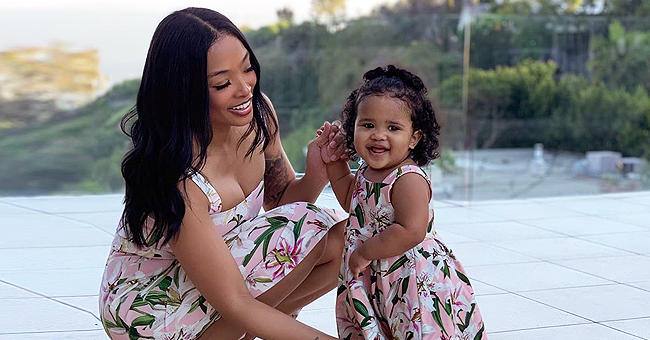 instagram.com/princesslove
Princess Love & Daughter Melody Wear Matching Floral Dresses in First Ad Together

Melody Love effectively promoted her father, Ray J's new product by just being herself. She appeared in a video with twinning with her mother, Princess Love and fans agree her cuteness is driving them to purchase.
An adorable clip of Princess Love and daughter Melody is destined to do wonders for the sales of the earphones they were promoting for daddy Ray J. Mother and daughter matched in floral dresses as Melody gave us a glimpse of her quirky personality.
"Melody steals the show!! Too cute!!"
PRINCESS FEATURES HER STAR PROMOTER
In support of Ray J's special edition E50 headphones from his Raycon Global business, Princess and Melody featured in a promotional clip showcasing the product. The supportive wife gushed about the rose gold earphones she was wearing and revealed how convenient it was for a mother like her.
"The best person to make this ad I'm going to place an order for sure!"
Mother and daughter matched in lovely floral printed dresses. It's amazing how much Melody has grown seeing she was already walking and trying to converse with her mother in gibberish. At one point, the little girl pouted her lips playfully revealing quite a personality.
FANS GUSH OVER MELODY'S CUTENESS
Fans admitted Melody's cute presence briefly distracted them from the real purpose of the clip. But they also agreed it urged them to purchase the earphones.
"We don't know what you're promoting! Melody steals the show!! Too cute!!" one follower of Princess wrote. "Melody gives us life!!! What a blessing! Yes!!! I knew I was going to purchase the Raycons instead of AirPods, but these new additions just sealed the deal."
Another echoed,
"I never get tired of seeing this cute baby girl. She must have her Dad's sense of humor She's funny and beautiful! The best person to make this ad I'm going to place an order for sure!"
HER PRESENCE IS GOLD
Melody just turned one in Disneyland in May and she's already making waves as a star promoter for her father. Earlier this month, a clip of her walking with her dad at the mall earned over one million views just because of her cuteness and happy nature.
It's not surprising her proud dad can't stop gushing about her. On Father's Day, he spoke of how fatherhood altered his existence. "I love my family. This what i live for," the singer wrote. He also lauded his wife for keeping him "balanced and focused."
With such a solid foundation of love, Melody is bound to grow up with a pleasant disposition and will be a strong force to keep her family together.
Please fill in your e-mail so we can share with you our top stories!