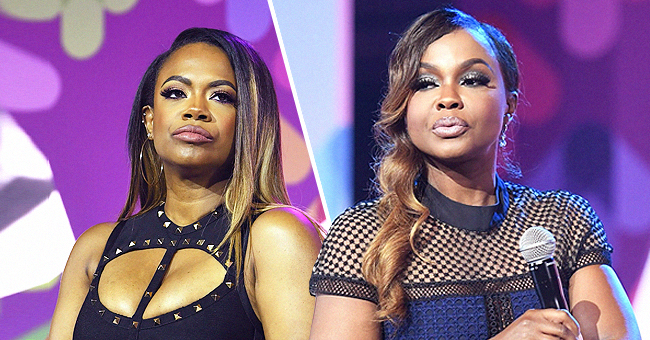 Getty Images
Kandi Burruss Claps Back after Phaedra Parks Reacts to Her Threat to Leave RHOA

It's been a long-standing feud between Kandi Burruss and Phaedra Parks, and it seems things just got a lot messier after Phaedra Parks reacted to Kandi's threat to leave "Real Housewives of Atlanta."
Kandi Burruss and Phaedra Parks have been at each other's throats for years, and a rekindling is highly unlikely to happen. The "Real Housewives of Atlanta" stars recently threw shade at one another through comments aimed at one another, without a face-to-face confrontation.
The Controversial Rumor
Their rift began when Phaedra spread a rumor of Kandi plotting to drug and take advantage of Porsha Williams. Eventually, Parks was kicked out from the show. However, with a lot of fans asking to see her back on the show, Kandi gave an ultimatum: if Phaedra returns, she leaves.
According to a recent report, Phaedra shared what she felt about Kandi's sudden demand:
"I find it amusing, because if she is that concerned about me three years later, I must have really impacted her life. So I'm glad I touched her like that."
Kandi's Response to Phaedra
However, when it was Kandi's turn to speak, she made sure to let all her feelings out, saying she feels sad that Phaedra feels no remorse for what she's done in the past.
"I just find it very sad that she has no remorse for what she did like she didn't see anything wrong with that? I feel like if anybody did what she did to me to her sons in the future — she would have a totally different outlook on the situation and so I think she should just rethink it."
To Burruss, what Phaedra did three years ago was not so easy to let go of, which is why she still does not feel comfortable being in the same show.
A Closed Door
Back in 2018, Kandi opened up about her feud with fellow RHOA stars, saying that while she's made amends with Porsha Williams, she has no intentions of speaking to Phaedra Parks ever again.
During the time the rumor was spread, Burruss wrote about how she felt on her blog, disgusted by how low Parks would go to get attention.
"I was shocked, angry, disgusted... I could go on. Even with everything that had happened between me and Phaedra, I still didn't think Phaedra would go so low as to tell someone that I wanted to drug them."
With so much pain and hurt in her heart for being betrayed by someone whom she thought was her good friend, Kandi would rather not have to deal with that ever again.
Please fill in your e-mail so we can share with you our top stories!