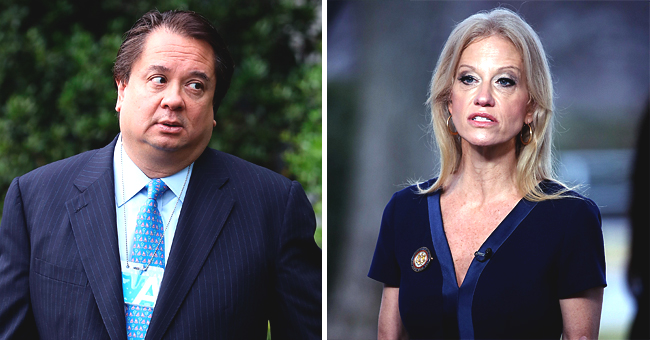 Getty images
Inside Kellyanne and George Conway's 17-Year Marriage that Has Become a Symbol of Controversy

The marriage between the political advisor to the US President, and her husband, a conservative lawyer, don't see eye to eye when it comes to the Trump Administration but they have worked it out up until now.
Ever since 54-year-old attorney George Conway parted ways with President Donald Trump, whom he had previously supported, everybody is curious to know about the tensions in his marriage to Trump's Counselour Kellyanne.
54-year-old Kellyanne has remained a loyal ally to Trump even when others have turned their backs to him, and this has brought her marriage of 18 years to the spotlight, as a symbol of the political tensions in the country.
GOING VIRAL
George went viral in February 2018 for his sudden dissent from the Trump Administration, and suddenly, even the left was celebrating his criticism of the President.
Last year, The Washington Post gained access to Kellyanne and George's $7.7 million home, looking into how the public feud between George and Trump affected life at the family household.
Kellyanne considers George's social media attacks to Trump disrespectful of the marriage. But she tries to undermine George's opinion, calling him just an "agitator."
HE IS STILL PROUD OF HER
George, on the other hand, doesn't hide the fact that he would like Kelyanne to stop working for Trump, and he thinks that the longer she is close to Trump, the worse her reputation gets.
He insists that he means no disrespect to his wife, and he explains that he is still proud of his wife achievements, despite the way things turned out.
"My wife did an amazing thing -- I mean, she basically got this guy elected. And other people like to take credit for it, but she got this guy elected," George once said.
"She steadied that boat. She did it. She went on television, she imposed message discipline on that campaign," he acknowledged.
But he does regret the fact that it was no other but him who introduced Kellyanne to Trump back in the day.
George and Kellyane share four children: 14-year-old twins Claudia and George, 11-year-old Charlotte and 9-year-old Vanessa.
BEYOND POLITICS
When they all get together, the husband and wife often leave their work phones away to disconnect from the political arena and enjoy their family live.
She's more than her job, just like he's more than his tweets.
In an interview with Michael Isikoff, George said that it wasn't that rare for couples to disagree on politics, and that beyond the delicate issue of Donald Trump, the two are mostly on the same page regarding policy.
"If I had a nickel for everybody in Washington who disagreed with their spouse about something that happens in this town, I wouldn't be on this podcast, I'd be probably on a beach somewhere," George told the Yahoo News "Skullduggery" podcast host.
As much as Kellyanne defies her husband's views in every chance she gets, she has made it clear that she won't discuss her marriage in a public political discussion.
KELLYANNE WON'T DISCUSS HER MARRIAGE
Recently, a Fox News host asked Kellyanne why was George attacking her boss, to which she reacted in a defensive way. "Well, you could ask my husband. But it doesn't affect my job," she replied.
As if that answer wasn't enough, the TV host went on to ask her about how the controversy was affecting Kellyane's marriage, she turned sarcastic and went after the interviewer.
"Oh, Chris, what are you, Oprah now? I mean, what am I, on a couch and you are a psychiatrist? I think it's a really inappropriate question, and here's why. That's the line over which nobody should have crossed," Kellyanne responded.
Please fill in your e-mail so we can share with you our top stories!