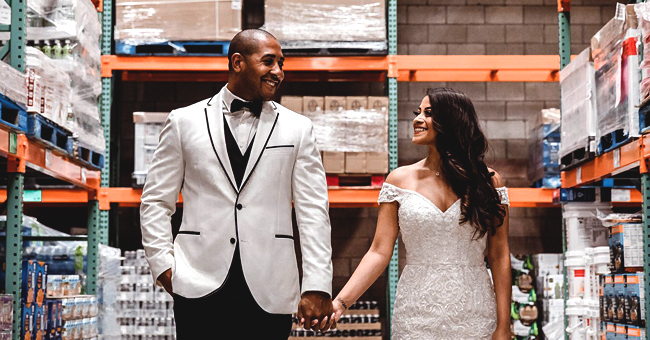 facebook.com/Costco
Couple's Adorable Wedding Photos in Costco Go Viral
A stunning couple is fast making headlines after their wedding photos, uniquely taken at Costco, surfaced online.
Via Facebook, Costco proudly shared Jessica and Brandon's love story. The couple first met in the famous wholesale chain store, particularly the Waipahu Costco located in Hawaii.
Costco's Facebook post also included a first-hand account of the pair's love story which all started from an aisle in the mac and cheese section.
Jessica had been touring Costco with her roommate when she saw mac and cheese. Torn between buying and not buying it, Jessica quickly shared a video of herself via Instagram and started a poll about whether she should buy it or not.
What she didn't know was that she had an audience – Brandon. After she stopped recording herself, he walked up to her and reassured her that mac n cheese is "good for you" since "it's cheese and it's Costco."
He piqued Jessica's interest, and they exchanged numbers. Their first date, however, didn't happen until some three months after their Costco exchange.
Costco became one of the couple's favorite places and a sort of inside joke between the adorable pair. Jessica even related that she answers every compliment Brandon gets with a "thanks, I got him at Costco."
She even shared that she enjoyed poking fun at their Costco beginnings by once sharing a picture of themselves on a date at Costco. The caption of the photo read,
"Sometimes I️ take him back to where it all started ... so he knows I️ can return him if he acts up.#NoReceipt."
Unexpectedly, that was the very day Brandon popped the question! The pair decided to give their wedding photoshoot a tinge of humor by doing it right in Costco's mac and cheese aisle! They didn't think they would go through with it at first, but netizens couldn't be happier that they did!
The couple was dumbfounded when the pictures, which were taken a month after their wedding, went viral. After Costco shared it via social media, it became quite popular and amassed 15,000 reactions from netizens.
Going by the numerous comments and reposts, the photos have made a lot of people happy. Although unexpected, the beautiful couple shared that it was nice to see how they have made people.
Asides Jessica and Brandon, Costco are the happiest, and they excitedly started their Facebook post by pridefully saying that "nothing says love quite like mac and cheese." Well, for Jessica and Brandon, that couldn't be truer.
Please fill in your e-mail so we can share with you our top stories!