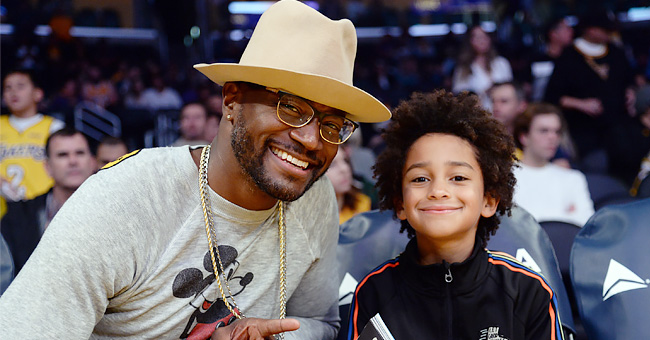 Getty Images
Why Taye Diggs' 9-Year-Old Son Doesn't Want Him to Date
Taye Diggs may be ready to reenter the dating scene, but his son Walker Nathaniel is not a fan of the idea.
All those lovely ladies out there whose hearts beat faster at the thought of Taye Diggs will just have to bide their time a little longer.
Actor and singer Diggs confessed that he is willing to let love into his life again, but that his son Walker Nathaniel does not agree.
TAYE DIGGS: "THE KID COMES FIRST"
Diggs shares 9-year-old Walker with ex-wife Idina Menzel, whom he met while starring in the Broadway show, "Rent" in 2003.
Even though Menzel and Diggs divorced in 2014, Walker is still not ready to see a new woman in his dad's life.
"(Walker) No. 1 in my life right now. I've been respecting that up to now, but I feel like I need to have a discussion with him pretty soon," Diggs said.
For Diggs, co-parenting Walker with ex Idina Menzel has been a positive experience.
IS LOVE ON THE HORIZON FOR TAYE DIGGS?
Diggs revealed that Walker fears that a love interest in his father's life will cut into their precious together-time, but he also hints that he has met someone he is nurturing strong feelings for.
TAYE DIGGS AND PHILANTHROPY
Children and their education is a subject close to Diggs' heart, and he has recently participated in an event in conjunction with the New York City Department of Education, during which a check for $100,000 was handed over to buy school supplies, which will be distributed to teachers across all six school districts in Manhattan.
TAYE DIGGS' COMMITMENT TO CO-PARENTING
For Diggs, co-parenting Walker with ex Idina Menzel has been a positive experience.
"We were friends to start out with, but especially when you have a kid in the mix, there's no time for any negativity," Diggs said.
Diggs is so invested as a parent that he reveals that he is about to launch a podcast on parenting in which he will discuss several pertinent topics and share his own experiences.
TAYE DIGGS - CHILDREN'S AUTHOR
Though most think of Taye DIgs as n actor and a dancer, he adds to his resume the achievement of being an author of children's books - specifically books geared to helping children deal with color issues.
His first book, "Chocolate Me," was about his own experience growing up as a black boy in a predominately white neighborhood.
Diggs' second book "MIxed Me," he wrote for Walker, his biracial son, and deals with the difficulties of uniting two disparate cultural legacies harmoniously.
Please fill in your e-mail so we can share with you our top stories!