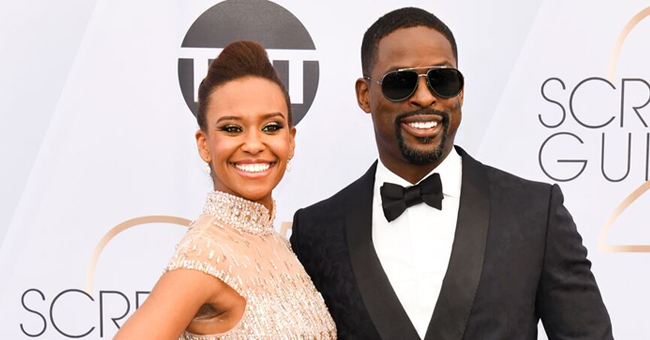 GettyImages
How 'This Is Us' Sterling K. Brown's Wife Is Making a Name for Herself in Hollywood
Ryan Michelle Bathe is often known for being Sterling K. Brown's wife. But an actress herself, Bathe also has a long-lasting career in Hollywood that has been soaring in the last couple of years. She is set to star on BET's TV adaptation of "The First Wives Club," and her career will probably get the last push it needed.
Ryan Michelle Bathe is a 42-year-old actress that also happens to be married to "This Is Us" star Sterling K. Brown.
RYAN MICHELLE'S TV CAREER
Fans of the show would probably recognize her as Yvette, a friend and neighbor of the Pearsons' family that taught Mandy Moore's character, Rebecca how to raise a Black child. Bathe, and Sterling never shared screen time though, because she's often seen in flashbacks.
Bathe has also appeared on fan-favorite series like "ER," "Empire," "Girlfriends," "How I Met Your Mother," and "Private Practice." She also had a recurring role in the short-lived drama "Trauma" in 2010.
She co-starred alongside Katherine Heigl in the movie "One For The Money" in 2012, and gave life to the girlfriend of Kellie Martin's character CPT Nicole Galassini on "Army Wives."
Now, Bathe will be part of the main cast of BET's "The First Wives Club," where she will bring Ari to life.
HER UPTIGHT CHARACTER IN THE SERIES
According to Deadline, Ari is "a type-A attorney with impeccable style and not a single strand of hair out of place."
Her storyline is described as it follows:
"She was on track to make partner but sidestepped her career to advance her husband's political ambitions and raise their two kids. When a crisis reunites her with her best friends from college, she is able to translate her kick-ass courtroom skills to help them reclaim their independence and rekindle the camaraderie (and fun) of their college glory days."
Bathe will share the screen with Jill Scott and Michelle Buteau, who will be playing as Hazel and Bree, respectively.
BATHE AND BROWN'S LOVE STORY
Bathe met Sterling K. Brown at Stanford University, and they had an instant connection.
"We found out that we were both from St. Louis. We didn't know that we were both from St. Louis, like, our parents went to rival high schools. We were born in the same hospital. Like, we were friends," Brown told Entertainment Tonight.
However, their relationship started as a friendship because Bathe was dating someone at the time. "Of course she was, she's gorgeous," Brown joked.
Eventually, their friendship evolved to something more, and they dated on and off through college until they became more serious in 2004. Three years later, they tied the knot.
They have two sons, Andrew Jason, 8, and Amaré Michael Ryan, 3, and Bathe has been candid about her parenting style and why she chose not to use corporal punishments on her kids.
RAISING KIDS WITH LOVE
In an essay that she wrote for People magazine last month, Bathe revealed that while she was growing up, corporal punishment was "the order of the day."
She wrote:
"I have been beaten for staying up late doing homework that I left to the last minute, not washing dishes, talking back, sticking my tongue out at my cousin, breaking a flower pot, and many other infractions that I can't even remember."
She says that growing up, she never thought of questioning the beatings—which sometimes included belts and extension cords—as a form of discipline and stilling a fear for authority on children.
And then she became a mom.
"And everything changed," she admitted. "I was exposed to articles about discipline and the science around corporal punishment. It rocked me to my core. Research shows that corporal punishment is highly questionable at best, and by no means is it the best way to discipline a child at all, according to science."
The good thing, she says, is that she and Brown are on the same page when it comes to corporal punishment.
"So we continue forward. Praying for guidance. Hoping that love will be enough," she concluded.
Please fill in your e-mail so we can share with you our top stories!