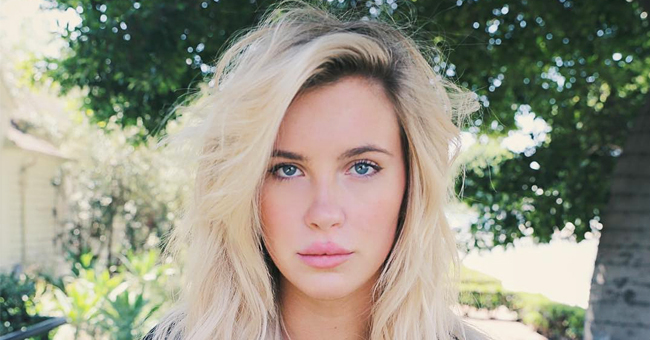 instagram.com/irelandbasingerbaldwin
Alec Baldwin's Daughter Ireland Posts Racy Photo of Herself and Her Uncle Billy Reacts: 'Awkward'

Ireland Baldwin, the daughter of Hollywood's famous, Alec Baldwin recently updated her Instagram with an image of herself, and her Uncle's comment is unexpected.
The model camped at the Sixty Hotels and wanted her online followers to have a glimpse of her hotel experience.
"Thank you, @sixtyhotels, for the beautiful stay. I may never be allowed back, but it's chill. Also, my butt isn't that white; it's the sun. No, it's also that white."
The excited young lady posted a photo of her butt covered in a yellow g-string and stopped at nothing to present in words as many details as she'd with the shot.
She held one hand up in the air and had her tattoos entirely on display. The actor's daughter also rocked a pair of black heels, had a white towel draped down to the ground from her other hand.
There were an array of comments on the young woman's post, as a considerable amount of followers admired her look. Words like, "haha, she knows I love her tight ass," "Rite and tite," flooded her Instagram wall. However, Ireland's fans and friends were not the only ones to notice the upload.
Her Uncle Billy and father expressed their feelings via their comments. For Billy, liking the picture would be a big deal. The words posted by the 23-year-old's uncle were:
"Tough one for Uncle Billy to like. Awkward".
The model's dad gave his opinions about her online post. He expressed that he didn't quite get the upload. He said:
"I'm sorry. What?
The 23-year-old's social media handle is not new revealing pictures like this, and there happens to be a type of disapproval from the 60-year-old actor, as he greets his daughter with comments showing how he feels.
In August last year, Ireland flaunted her model physique on a motorbike while posing for " PETA" brand. She also had a pair of black swimsuit on, paired with brown leather cow boots.
The photo caption read:
"Stay extra @phatmango."
Young miss Baldwin is stopping at nothing to show off her confident body, and she has even spoken out concerning taking charge of the body and not letting anything halt her move.
According to her to:
"This is who I am, take it, or leave it. I am not going to be body shamed for being pale or not stick thin. I'm not going to spend hours photoshopping my authenticity away. I'm not going to beat myself up for not looking like someone else. I'm not going to be told I'm damaged goods because of my tattoos."
The model may not spend time photoshopping, but she shared that she has been spending quite some time eating bread at the cheesecake factory, and it's telling on her breasts. Days later, she posted an image of herself in corsets with her cleavages out to buttress her bread eating boobs growing point.
The 23-year-old seems proud of her body and will not let either family or friends get in her way.
Please fill in your e-mail so we can share with you our top stories!