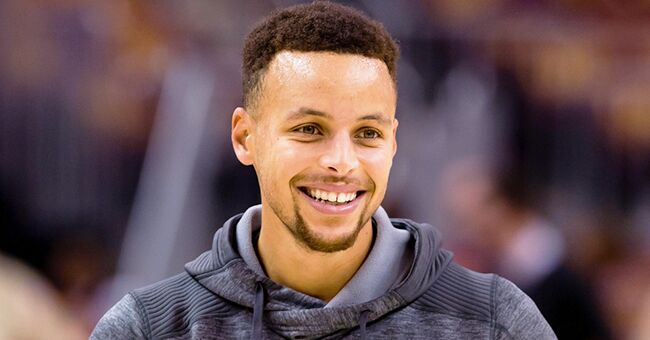 Getty Images
Stephen Curry and Daughters Sing 'Hamilton' in the Car (Video)
NBA star Stephen Curry and his beautiful daughters won the internet's heart with their incredible renditions of a song from Hamilton the Musical.
The Golden State Warriors point guard, 31, shared an adorable clip on YouTube recently singing "You'll Be Back" with his daughters Ryan, 4, and Riley, 7.
"This is why Steph is the face of the league. The haters can give up for good."
"We've done this 1,000 times, but this is the first one on camera. "You'll Be Back" with lead vocalists Riley and Ryan. Ham Fam at heart," Stephen wrote.
In the video, the professional basketball player and his girls can be seen piling into the vehicle for a little drive.
"I'm gonna take a drive with my daughters, give you guys a glimpse at what it's like riding in the car with us," Stephen says. "There's a lot of singing, a lot of ice cream, a lot of fun times."
While Ryan and Riley were interested to know where they were going in the beginning, they soon lost interest once their father began singing "You'll Be Back" from the smash musical.
"Uh oh, it's that Hamilton! Ryan, you know the words, right?" Stephen asks his more youthful kid.
The father-daughter trio then belts along to every lyric of the song, which is sung by an actor playing King George III.
As they go for the song's falsetto notes, Stephen shouts, "You gotta sing it loud!"
In the end, the family arrives at an unexpected destination. They finish off the trip with one last note of "You'll Be Back."
As of this writing, the video has already been viewed over 3.5 million times. A lot of fans also added their thoughts via comments.
One fan wrote, "This is why a good father is so important in a young girl's life. Great job Steph!"
"His kids look just like him and have his mannerisms! As if he had them all by himself... LOL," added another.
"Anyone who knows being around their kids is the best feeling in the world... way to go steph!" another person commented. "Bet u wasn't thinking of no basketball that moment.... memories like that is always the best winner."
Someone else wrote, "This is why Steph is the face of the league. The haters can give up for good. The Currys are Camelot revisited."
Stephen, who married longtime girlfriend Ayesha on July 30, 2011, is also a doting father to 1-year-old son Canon W. Jack.
Please fill in your e-mail so we can share with you our top stories!