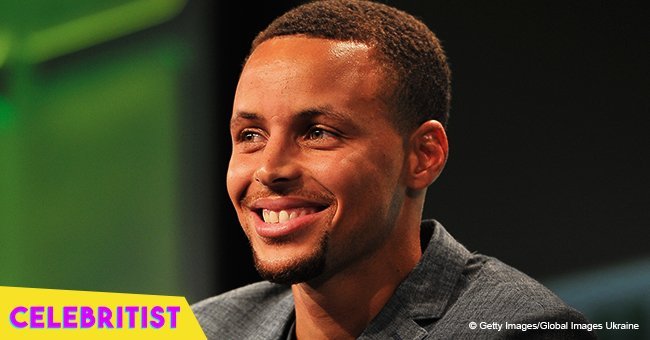 Stephen Curry steals hearts with photos of smiling wife and kids after son's 1 month birthday

The Golden State Warriors' star Stephen Curry took to Instagram to share a slideshow of all members of his family.
In the first image of the post, Stephen's wife Ayesha was portrayed wearing a black shirt covered by a red hoodie while side-hugging the couple's eldest daughter, six-year-old Riley, who put on a white shirt and blue sunglasses.
For the second photo, Stephen was shown wearing a long-sleeved striped black and white shirt and a black vest. Three-year-old Ryan was right next to him in a similar shirt and a white jacket.
The third and final picture portrayed one-month-old Canon, the Currys youngest child and only son, wearing a blue sweater while resting on a white blanket. Stephen was next to him gently caressing his hand.
In the caption, the NBA star wrote: "Just a reminder to myself to cherish these moments and smell the roses!" As soon as he uploaded that slideshow, her fans and followers took to the comment section to share their thoughts.
One of them was Instagram user @rayyyy.05, who pointed out that Stephen had the cutest family ever and that they loved every single member of the Currys. @bennieposey added that Stephen was right as he should always cherish every moment.
Canon W. Jack Curry
On July 2, 2018, Ayesha and Stephen's third child was born. In a photo that the proud mother posted to announce the news with her followers, she revealed that Canon was born earlier than expected and that they "couldn't be more excited and grateful."
The pregnancy was announced on Instagram in February when Ayesha uploaded a picture of herself looking down at her baby bump while wearing a shirt that read "PREGGERS."
One of the most interesting aspects of this pregnancy was that neither Stephen nor Ayesha revealed the gender of the baby and they even told Ellen DeGeneres during her show that they didn't want to know it up until the baby was born.
"I would love to get to the delivery room and have that surprise. I've heard stories on both ends of finding out early, finding out when the baby was born. But she's a planner, she wants to know," confessed Stephen.
Please fill in your e-mail so we can share with you our top stories!