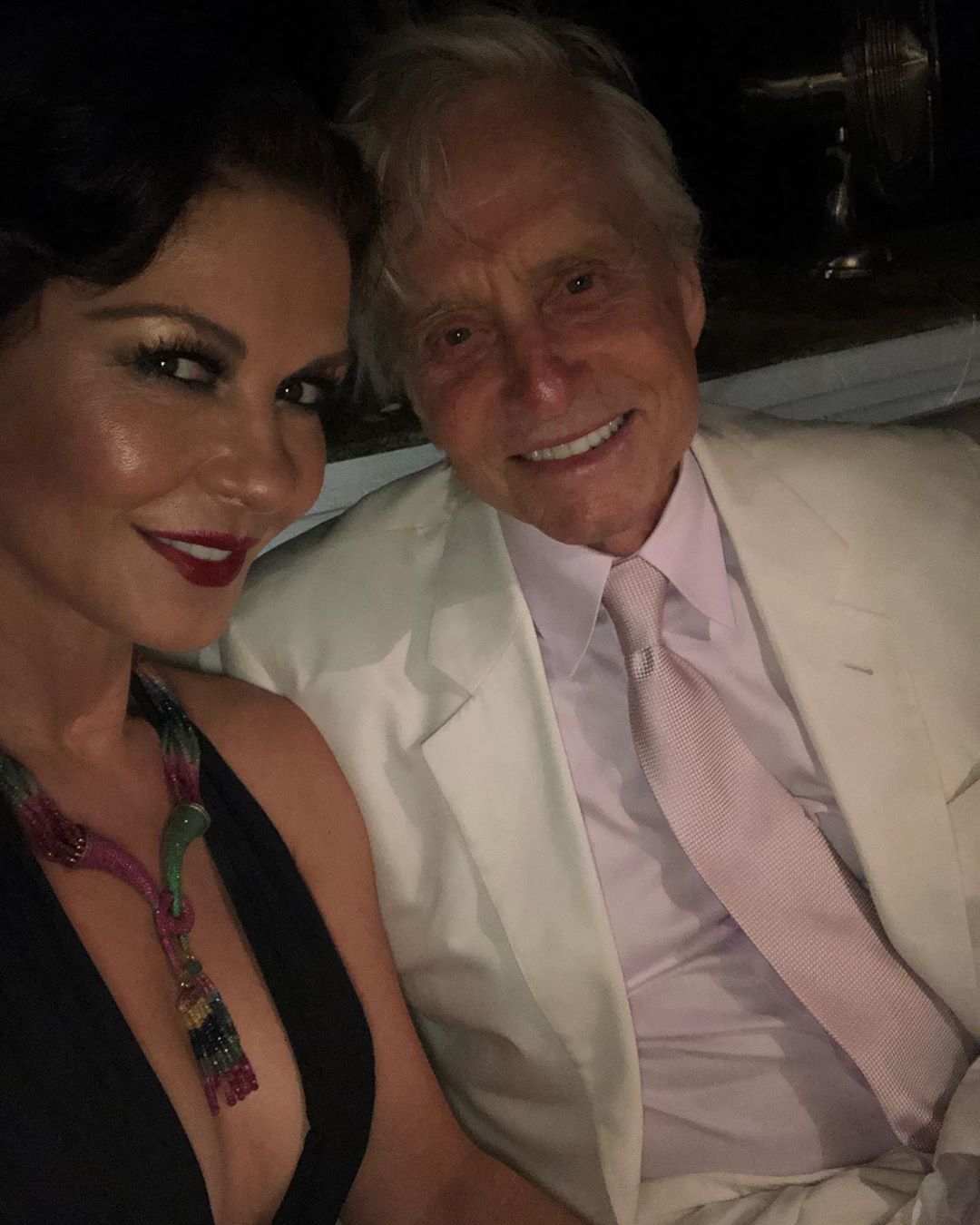 AmoMama.com
Catherine Zeta-Jones and Michael Douglas Attend Gatsby-Themed Party of Socialite Lawrence Stroll
Catherine Zeta-Jones showcases a stunning plunging dress alongside her husband, Michael Douglas, as they attend Lawrence Stroll's 60th Gatsby-themed birthday party. The lavish event took place in Capri, Italy at Villa Lysis.
Zeta-Jones was dressed under the 1920s Roaring Twenties theme, which is evident in the Great Gatsby film itself. Her statement colorful item, her necklace, complimented her tight-fitting black halterneck dress which sculpts her body. Her look was completed with a pair of black strappy heels as well as a white-beaded bag, accompanied by matching earrings. Jones coupled a dramatic smokey eye with an elegant updo, staying true to the Gatsby theme, as she wafted herself with a fan.
Michael complimented his wife in his all-white suit and formal shoes while adding a touch of pink with his shirt and tie. The couple was seen walking to the event while flaunting their elegant attire. Catherine shared a picture of them on Instagram.
It is only fitting that the couple dressed up as they were attending Stroll's birthday party, keeping in mind that Stroll is invested in fashion. Stroll has invested in Michael Kors and Tommy Hilfiger and took fashion brands, Pierre Cardin and Ralph Lauren, to Canada. Hilfiger, who was in attendance, showcased his dance moves to the guests while dressed in his three-piece suit, tie, and boater hat.
During the 2019 SAG Awards, Zeta-Jones praised her husband stating,
"He is the kindest man I have ever met in my life. His sense of humor, he is actually quite funny in his show. But he is my best friend. So proud to be with him tonight."
Despite Catherine and Michael's 25 year age gap, the couple will be celebrating their 19th wedding anniversary this year. They are parents to their 18-year-old son, Dylan, and 15-year-old daughter, Carys.
Catherine and Michael were introduced to each other through their mutual friend, Danny Devito, in 1998. Their introduction took place at the French Film Festival. Catherine rarely posts images of herself and Michael on Instagram but 122 410 fans are glad that she did in her most recent post of herself and Michael in Italy. They rarely shy away from professing their love for each other in public, as was evident in Michael praising his wife during his 2019 Golden Globes acceptance speech, for his role in The Kominsky Method on Netflix. He said :
"The joy of my marriage with Catherine and having our children at a point in my life where my career hadn't developed, allowed me much more time to enjoy my family."
They continue to share their love and admiration for each other, even after 19 years of marriage.
Please fill in your e-mail so we can share with you our top stories!