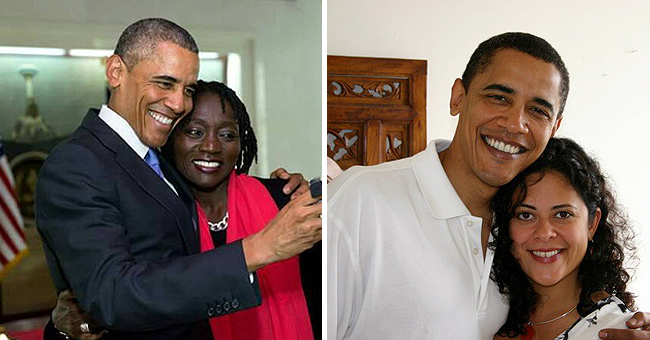 facebook.com/gaptoothwoman / facebook.com/Auma Obama Official
Meet Maya and Auma, Barack Obama's Sisters Who Both Have PhDs
Former President Barack Obama comes from a wide, multi-cultural family, and among his relatives, his two half-sisters stand out for their incredible achievements in their respective academic fields, their humanitarian efforts, and commitment to help others.
Barack Obama comes from a multi-cultural mixed family.
His father, Barack Obama Sr. met his mother, Stanley Ann Dunham, at a Russian language class at the University of Hawaii at Mānoa in 1960. He was the school's first African student; she was mostly of English descent.
They married in 1961 despite opposition from both of their families, and Barack was born that same year.
However, Barack Obama Sr. had left his first wife and child back in Kenya. The child, Barack's eldest half-sister, is Auma Obama.
Obama Sr. and Dunham lived separately for years as each pursued their education in different states. Eventually, Dunham filed for divorce in 1964, and she went on to marry a second time to Indonesian businessman Lolo Soetoro. They had a daughter, Obama's half-sister Maya Soetoro-Ng.
Although they were raised in different continents and under different circumstances, Barack and Maya, and Auma, all share a passion for education and helping others in need.
AUMA OBAMA
Auma Obama grew up in Kenya surrounded by a traditional mind-setting where girls were told they couldn't choose the path they want to follow in life. Instead, they're raised to subject themselves to their husbands, fathers, brothers, or any male figure in their lives.
But Auma always wanted more from life, and after attending local elementary and secondary schools, she secured a scholarship to attend college in Germany. First, she studied German at Heidelberg University from 1981 until 1987.
Later, she pursued graduate studies at the University of Bayreuth and completed another degree program at the German Film and Television Academy at the same time. She obtained a Doctor of Philosophy degree from Bayreuth in 1996.
She lived in the UK for years, and after returning to Kenya, she worked in the aid organization CARE International. There, she established the network "Sport for Social Change," an initiative to familiarize girls among East Africa, Egypt and Bangladesh with sports as a means for improving their own social situation.
She started the Sauti Kuu Foundation (Strong Voices Foundation) to help children and young people from rural communities "to discover the strength of their own voices and the power they have to change their lives positively."
Auma is also a book author, a member of the World Future Council, and a motivational speaker.
MAYA SOETORO-NG
Maya was born in Jakarta, Indonesia, and was homeschooled for most for of her childhood. At 11, she was enrolled at Jakarta International School, and a few years later, she returned to Hawaii with her mother, where she attended Punahou School in Honolulu.
Soetoro received a B.A. degree from Barnard College of Columbia University in 1993. She also graduated with an M.A from New York University in second language studies and another M.A in Secondary Education from the same university.
In 2006, she completed a Ph.D. in international comparative education from the University of Hawaii at Manoa.
Dr. Soetoro-Ng worked as an assistant professor at the Institute for Teacher Education at the University of Hawaii's College of Education. She was also a school teacher at The Learning Project, a public middle school in New York, the Education Laboratory School and La Pietra: Hawaii School for Girls, both in Honolulu.
She's currently the Director of Community Outreach and Service Learning at the Spark M. Matsunaga Institute for Peace & Conflict Resolution. She also gives courses on Peace Education; the History of Peace Movements; and Leadership for Social Change.
Maya is also the founder of Ceeds of Peace, a non-profit organization that "offers various platforms to teach peacebuilding skills to provide the tools and support to raise a generation of peacebuilders."
Maya has shared her vision to uplift and empower young people, especially women, as the future leaders of the world.
"They understand that they owe the planet something and they know how to steward it," she said of the new generations. "They are inclusive. They cast a net widely and invite more people to the table. They are brave about difference, and they are working to understand our interconnectedness."
Maya is a mother of two girls and wrote a child's book, "Ladder to the Moon," based on the questions one of her daughters asked her about her grandmother.
Auma and Maya are both exemplary women who were also part of their brother's presidential campaign. They couldn't be prouder of Barack Obama, and the feeling is probably mutual for the former president.
Please fill in your e-mail so we can share with you our top stories!