Struggles of 'The Virginian' Charles Bickford – Including Being Attacked by a Lion
A personal quote by Charles Bickford aptly summed up his life. "It's appropriate that I should have come in on the wings of a blizzard. I've been blowing up a storm ever since," he once said.
Born in Cambridge, Massachusetts, as the New Year of 1891 came to pass, a boisterous Charles faced charges of attempted murder at the age of nine after the man who ran over his dog got shot.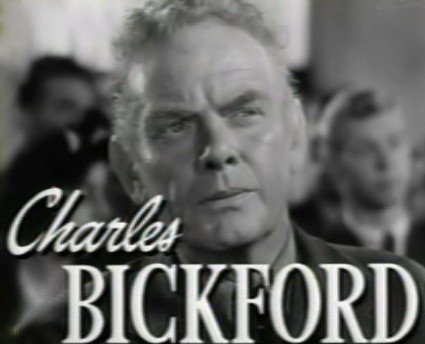 After his acquittal, Charles worked various jobs that included being a lumberjack and an investment promoter before he briefly ran his own pest extermination business. 
During his teens, Charles decided to sell the business and traveled through the country. While in San Francisco, an attempted romance with a burlesque actress led to a regular stint as a performer until he starred in the Broadway hit, "Outside Looking In." 
His performance led to a leading role in the 1929 film "Dynamite," but constant fights between Charles and MGM's studio head, Louis B. Mayer caused a temporary blacklisting of the actor with other studios.
Several years of acting as a freelancer followed until Twentieth Century Fox offered Charles a contract. However, before the agreement could take effect, Charles got mauled by a lion during the 1935 filming of "East of Java."
The horrific attack got captured on camera and producers even used some of the footage in the film. After the attack, Charles returned to the set to continue filming, but after he became delirious and collapsed due to high fever, he got sent back to the hospital.
The actor spent ten months recovering in hospital, but the scarring around his neck and increasing age caused a decrease in leading role offers. 
Instead, Charles became a character actor which led to his second of three Oscar nominations in 1943 with "The Song of Bernadette." The lifelong democrat also received Oscar nominations for his roles in the 1939 film "Of Mice and Men" and again for "Johnny Belinda" in 1948. 
In the years that followed, Charles continued acting until his death from pneumonia and infection at the UCLA Ronald Reagan Medical Center on November 9, 1967. The actor left behind his wife, Beatrice Loring, whom he married in 1919 and their daughter Doris and son Rex.
Charles' death came days after he filmed an episode of the hit television series, "The Virginian." One of his co-stars on the show, Hugh Beaumont also had health issues that changed the trajectory of his life.
Even so, Hugh Beaumont not only became one of television's most famous fathers but also lived a life that surpassed his acting talents.