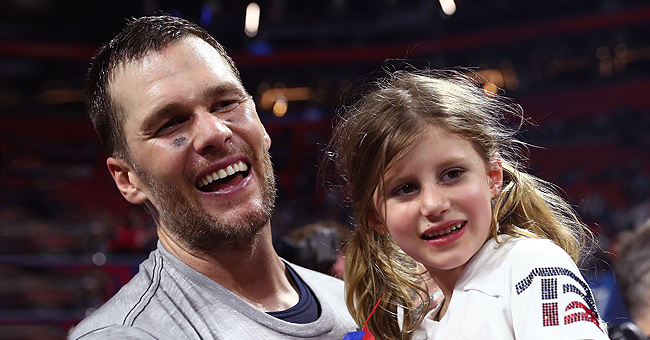 Getty Images
Tom Brady Sparks Backlash after Jumping Off a Cliff with His 6-year-old Daughter Vivian
Tom Brady is getting flack for jumping off a cliff into some water and pulling his daughter along with him. Some people think she could have broken a limb.
Brady may be a hero to some as the New England Patriots quarterback, but the most important person he should be a hero to is his kids. Based on online feedback though, he just put his daughter's life at risk.
The 41-year-old dad of three was enjoying a family vacation with wife Gisele Bündchen and the couple's two kids Vivian Lake and Benjamin. Brady's first son John Edward is shared with ex-girlfriend Bridget Moynahan.
In an Instagram post, the proud dad showed off as he stood atop a waterfall pool holding onto Vivian. He counts to three before shouting "Go!" With that, Brady leaps ahead first as his daughter follows behind.
They land in the water safely and as the camera pans back up, a woman is seen covering her mouth as another says, "Oh my god!" Many people saw the activity as a clear sun of a fun, adventurous dad. Some people even said they wished their dad had done the same with them.
However, several others did not take lightly to what they saw as dangerous. They noted that Brady held onto his daughter's arm as he jumped off the clip, and it was worrying to see. A fellow athlete and professional surfer Kelly Slater asked, "That shoulder ok?" along with a worried emoji face.
Even actor Duane "The Rock" Johnson was concerned, reportedly commenting: "You KNOW I have complete faith in you as a man, friend, player and father – but this just gave me anxiety. Geeezus." Someone else insisted that "if this wasn't Tom Brady, folks will say this [is] child abuse."
Twitter user Arnold Darksner commented:
"Bad parenting? His daughter almost broke her arm. NFL should consider punishment."
The responses were a mix of agreement and support for his sentiments. Many asserted that Darksner had no right to judge whether or not Vivian "almost broke her arm." Others simply thought he was overreacting and needed to calm down.
Vivian may have hesitated as some suggested, but she might still be following in her dad's footsteps in other ways besides adventure. Last year, her mom showed off her athletic skill with an action shot of Vivian playing with a soccer ball.
As for daddy, this isn't the first time his parenting practices have been put into question due to activities caught on camera. Last year, Brady got heat for kissing his son Jack on the lips when he was 11 years old.
The young boy wanted to check his game and asked Brady for permission. After giving him only a peck, Brady insisted it wasn't enough and had his son return to give him a longer kiss on his lips.
The response was divided, but many were uncomfortable with such a display of affection between father and son. Clearly, many things are debatable when it comes to children, but we can all agree that parents should always put safety first.
Please fill in your e-mail so we can share with you our top stories!